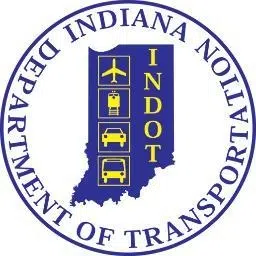 The Indiana Department of Transportation is helping July 4th weekend travelers declare their independence from highway construction and uncertainty about the road ahead, allowing extra time for motorists to reach their holiday destinations safely.
Travel times on message signs
Just in time for holiday weekend travel, INDOT has added travel-time information to seven permanent dynamic message signs around the state:
I-80/94 Borman Expressway eastbound at mile 12 in Gary – displays travel times to State Road 49 (Exit 26 in Chesterton), U.S. 421 (Exit 34 near Michigan City) and the Michigan state line (Mile 45)

I-70 eastbound at mile 92 in Indianapolis – displays travel times to State Road 9 (Exit 104 in Greenfield), State Road 3 (Exit 123 in Henry County) and the Ohio state line (Mile 156)

I-70 westbound at mile 68 in Plainfield – displays travel times to U.S. 231 (Exit 41 near Cloverdale), State Road 46 (Exit 11 near Terre Haute) and the Illinois state line (Mile 0)

I-65 northbound at mile 2 in Clarksville – displays travel times to State Road 56 (Exit 29 in Scottsburg), U.S. 50 (Exit 50 in Seymour) and I-465 (Exit 106 in Indianapolis)

I-65 southbound at mile 104 in Indianapolis – displays travel times to State Road 46 (Exit 68 in Columbus), U.S. 50 (Exit 50 in Seymour) and I-265 (Exit 6 in Clark County)

I-65 northbound at mile 131 in Boone County – displays travel times to State Road 26 (Exit 172 in Lafayette), U.S. 24 (Exit 201 in Jasper County) and I-80 (Exit 259 in Lake County)

I-65 southbound at mile 256 in Lake County – displays travel times to State Road 2 (Exit 240 in Lake County), State Road 26 (Exit 172 in Lafayette) and I-865 (Exit 129 in Boone County)
The information will supplement 26 dedicated travel-time signs in the state's larger metropolitan areas when not being used to alert motorists to upcoming incidents, congestion or road conditions. Both the DMS and dedicated signs display the distance and travel times to the destinations listed to help motorists make informed routing decisions.
The time estimates are based on information gathered from road sensors that measure a variety of factors, including average vehicle speed and traffic volumes. INDOT has developed algorithms to ensure the travel time information displayed is as accurate as possible.
Know before you go
Travel-time signs are one of many tools INDOT provides to help motorists "know before you go". Before getting on the road, drivers are encouraged to prepare their vehicles and check green-yellow-red traffic speeds on their mobile map app of choice or at http://indot.carsprogram.org.
INDOT's TrafficWise service also details construction projects and traffic incidents at 800-261-ROAD (7623) or 511 on your mobile phone. For social media updates on Facebook and Twitter, find your INDOT regional district at www.in.gov/indot/3074.htm.
Road work hiatus
To maximize mobility during the Independence Day holiday weekend, INDOT's Hoosier Helpers freeway service patrol sponsored by State Farm will assist law enforcement in clearing crashes and stalled vehicles in metropolitan areas.
INDOT also directs its contractors to pull back barrels and barricades in highway work zones to the safest extent possible. When entering a work zone, drivers should always be scanning the roadway ahead for slow or stopped traffic  Lane or ramp closures will remain in place on the following heavily-traveled highways: 
Southeast Indiana
I-65 is reduced to narrow lanes between State Road 252 (Exit 80) near Edinburgh and S.R. 44 (Exit 90) near Franklin for resurfacing. To maintain two lanes in each direction, the northbound left lane crosses the median to west/southbound side of the interstate.

Sections of State Road 37 from Bloomington to just south of Martinsville are reduced to one lane in each direction for Interstate 69 construction.
Southwest Indiana
All ramps to and from eastbound S.R. 66/Lloyd Expressway at U.S. 41 in Evansville are closed for construction.
East Central Indiana
The I-65 northbound ramp to I-70 westbound (Exit 110B) is closed for bridge construction at the south split. All other ramps in the area remain open to and from downtown Indianapolis. Through traffic is detoured west on I-465 to access I-70 westbound.

U.S. 31 is reduced to one lane in each direction for freeway construction north of Indianapolis near S.R. 32.
West Central Indiana
I-74 is reduced to one lane in each direction for paving west of Crawfordsville between S.R. 25 (Exit 25) and U.S. 231 (Exit 34).

I-70 is reduced to one lane in each direction and shifted to share the eastbound lanes for bridge work near Terre Haute between National Road (Exit 1) and U.S. 41 (Exit 7).
Northeast Indiana
I-469 near Fort Wayne is reduced to one lane in each direction from I-69 (Exit 0) to Tillman Road (Exit 15).

I-69 near Auburn and Garrett has shifting traffic lanes in both directions between Exit 326 and S.R. 8 (Exit 329).
Northwest Indiana
I-94 between SR 249 (Exit 19) and SR 149 in Porter County is reduced to two lanes in each direction due to bridge rehabilitation.

U.S. 31 at 7A Road near Plymouth is reduced to one lane in each direction for interchange construction.
Driver tips
To help reduce fatal and severe crashes around the Independence Day holiday, the Indiana State Police is joining with local law enforcement agencies to participate in the federally-funded Operation C.A.R.E., (Combined Accident Reduction Effort) and the Driving Under the Influence Enforcement Project. Extra troopers will be looking for motorists who speed, drive impaired, follow too closely, make unsafe lane changes, or fail to buckle up.
INDOT and ISP urge all motorists to observe the following safety tips:
Buckle up!

Never drive drunk, drowsy or distracted.

Leave early and allow extra time to get to your destination.

Obey all traffic laws and posted speed limits.

Allow at least two seconds of following distance.

Look twice and use turn signals when turning or making lane changes.

Slow down and move over for emergency vehicles, tow trucks, service trucks and highway maintenance vehicles
Flooded road closures
Several state highways remain closed due to high water following recent heavy rains. INDOT crews will deploy high-water signs in flood-prone areas as a warning to motorists and will place barricades to close sections of highways if needed.
The following state highways are closed as of Tuesday morning, June 30:
The I-74 westbound Exit 8 ramp near Covington in Fountain County

State Road 225 at the Wabash River near Battle Ground in Tippecanoe County

State Road 101 between U.S. 33 and State Road 224 in Adams County

State Road 1 between State Roads 67 and 26 north of Redkey in Jay County

State Road 235 east of Medora in Jackson County
INDOT urges drivers to "turn around, don't drown." The average automobile can be swept off the road in only 12 inches of moving water, and roads covered by water are prone to wash away. Attempting to drive through water also may stall your engine and cause irreparable damage.