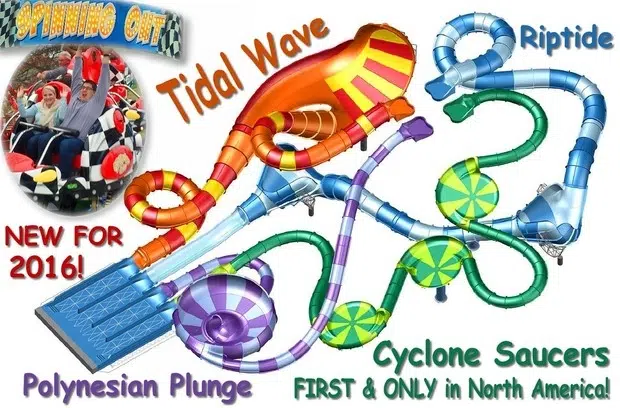 Beech Bend Park announced the largest water park expansion in park history recently. The multi-million dollar expansion includes Cyclone Saucers, the FIRST EVER North American installation of ProSlide's FlyingSAUCER ride. This history-making, ground breaking water slide will offer a very unique ride experience. Riders will fly around the edge of three "flying saucers" at high speeds. At nearly 500 feet long with a 55 foot elevation change, Cyclone Saucers is truly a one-of-a-kind experience.
Joining Cyclone Saucers in 2016 are three more new iconic rides. Tidal Wave positions riders face to face as they surge up a thrilling wall and hang weightless before rocketing back down. Riptide features an intense dark ride section, before plummeting into two separate funnels. Polynesian Plunge drops riders from the top of the slide tower into a swirling bowl. All four slides are being custom designed for Beech Bend Park by ProSlide Technology, Inc. The new rides are expected to open in June, 2016.
Beech Bend Park is a family owned park which employs approximately 300 people per season. The new expansion will increase those numbers by approximately 25 people, which includes positions for life guards and slide attendants. Beech Bend is also seeking a ride mechanic/safety inspector supervisor & a food and beverage manager.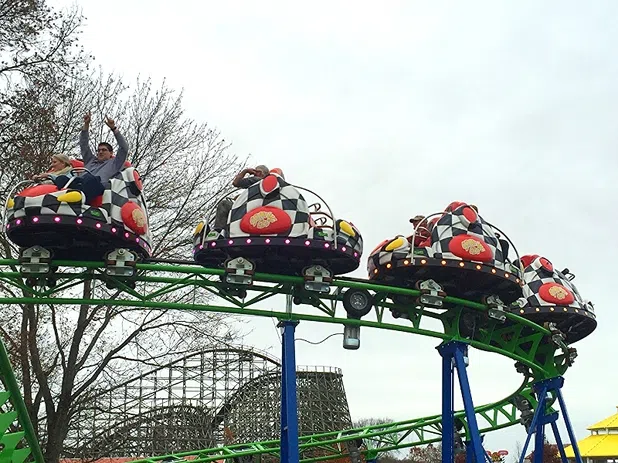 New Family Coaster Has Arrived at Beech Bend Park!
Beech Bend Park is excited to announce that installation of our brand new family roller coaster, Spinning Out, is complete! Spinning Out is themed like a race car, spinning out of control in a spectacular back to back seating configuration.  Each car holds four people, a perfect size for the entire family, and the cars will spin freely throughout the ride, delivering different ride experiences each time the weight distributions change! Spinning Out will surely become a favorite for kids and parents alike!