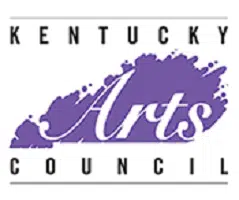 FRANKFORT, Ky. (May 31, 2017) — Twenty-eight schools from across the state had art on display at the Governor's Derby Celebration, May 6 on the lawn of the Old State Capitol.
The blankets, distributed to schools by the Kentucky Arts Council in early April, have become a celebrated tradition since the project started seven years ago, with hundreds of students participating each year. Ranging from fun and whimsical to intricate and detailed, the finished Derby blankets are placed atop picnic tables that have been converted into horses with an attached head and tail. These tables were on display on the lawn of the Old State Capitol in downtown Frankfort on the day of the celebration.
Jackie Williams, principal for Kentucky School for the Blind in Louisville, said her students based their design on designs of previous Derby blankets from other schools and photos from the Derby itself.
"This was a pretty neat opportunity because we had two of our high school students take the lead on this," Williams said. "I liked listening to what kind of brushes they like using. They would feel the brushes."
Williams said she hopes this becomes an annual tradition for the school to follow.
"Next year I'd like to get even more students involved," she said. "I hope to add more tactile things to the blanket, different textures that people can feel."
Participating schools, listed by name and county include:
Adams Middle School, Floyd
Berea Community High School, Madison
Briarwood Elementary School, Warren
Caldwell County Elementary School, Caldwell
Camp Taylor Elementary School, Jefferson
Cardinal Valley Elementary School, Fayette
Chandler's School, Logan
Clarkson Elementary School, Grayson
Cumberland County Elementary School, Cumberland
Green County Middle School, Green
James A. Duff Elementary School, Floyd
Jones Park Elementary School, Casey
Kentucky School for the Blind, Jefferson
Marion County High School, Marion
McCreary Central High School, McCreary
Memorial Elementary School, Hart

Natcher

Elementary School, Warren
Northern Elementary School, Pendleton
Northside Elementary School, Woodford
Ohio County Middle School, Ohio
Paul Laurence Dunbar High School, Fayette
Phelps Junior and Senior High School, Pike

Rosenwald

Dunbar Elementary School, Jessamine
Spencer County High School, Spencer
The Providence School, Jessamine
Trigg County High School, Trigg
Tully Elementary School, Jefferson
Warren East Middle School, Warren
For a slideshow of each school's Derby blanket, visit the arts council website.