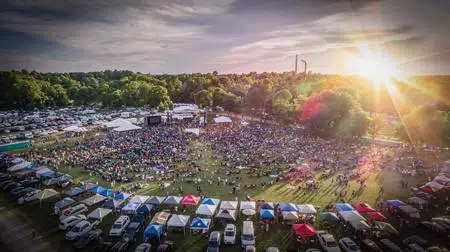 The 14th annual ROMP Festival will be led by the legendary American roots pioneers, Nitty Gritty Dirt Band, progressive bluegrass virtuosos, Punch Brothers, innovative musician, Keller Williams and his project blending bluegrass and Grateful Dead songs, Keller Williams' Grateful Grass,Grammy Award winning folk rockers, Los Lobos, and multi-instrumentalist and founding member of the Carolina Chocolate Drops, Rhiannon Giddens. Held in Owensboro's Yellow Creek Park, the four-day music, camping, and art festival will take place June 21-24, 2017, and will feature over 30 top bluegrass, folk and Americana acts.
According to a news release from 14 WFIE (http://www.14news.com/story/35720127/romp-festival-begins-preps-for-rain-underway), the tropical storm could have an effect on weekend events in The Tri-State.
As Owensboro gears up for ROMP this weekend, they're preparing themselves for the chance of rain that comes from the Gulf system.
You'll find the emergency management crews at the main stage at Yellow Creek Park. There are over 200 campers, and authorities are making sure there's a plan for any emergency situation.
They're monitoring 24/7 security footage but also the weather.
We've learned festival officials called in forecasters from the National Weather Service. They're there to keep track of the weather since hundreds of people will be exposed to the elements.
We're told this area has the biggest chance for heavy rainfall, and it's best to prepare for the worst.
Rain or shine, the festival will keep on the next four days.
Additional acts include 14-time Grammy winner, Jerry Douglas, progressive bluegrass jam band, Yonder Mountain String Band, Grammy Award winning group, The SteelDrivers, bluegrass pioneer, Peter Rowan, old-time folk music aficionado, Pokey LaFarge, Celtic folk rockers, Scythian, Galway, Ireland's We Banjo 3, and 10-time IBMA Fiddle Player of the Year, Michael Cleveland, plus many more. A full list of artists confirmed can be found below.
2017 Lineup: Nitty Gritty Dirt Band, Punch Brothers, Keller Williams' Grateful Grass, Los Lobos, Rhiannon Giddens, Yonder Mountain String Band, Jerry Douglas Band, Peter Rowan, The SteelDrivers, Pokey LaFarge, Dailey & Vincent, Michael Cleveland & Flamekeeper, We Banjo 3, Scythian, Billy Strings, Rob Ickes & Trey Hensley, Becky Buller, The Dustbowl Revival, The Wooks, Snyder Family Band, High Fidelity, Lindsay Lou & the Flatbellys, and Hogslop String Band!
Daviess County's Yellow Creek Park, a 150-acre facility famous for its nature trails, winding creek and fishing lake, and sweeping treelines, plays host to ROMP each year.
Daily artist-led instrument workshops give musicians the chance to interact and teach fans and players of all ages and skill levels. Other workshops and forums include songwriting, clogging and flat-foot dancing, yoga (all levels), and healthy living through music.
Additional offerings at ROMP Festival include organic and farm-to-table food vendors, craft vendors featuring Kentucky Proud products, art installations, and professionally-led children's activities.
Attendees are encouraged to bring their instruments to jam throughout the weekend, and dance until dawn at the infamous after-parties; nationally-acclaimed acts perform each night on the park's rustic Pioneer Village cabin stage.
The International Bluegrass Music Museum, producer of the event, will highlight new exhibits, host performances throughout the daytime, and present a film festival of documentaries they have produced on Bluegrass Music's First Generation. Museum admission is free to all festival-goers.
Artist additions, single day tickets, volunteer opportunities, vendor applications, and daily schedules will be available in 2017. To stay up-to-date with the latest news from ROMP fest, music fans can visit rompfest.com, Facebook, Twitter, Instagram and sign-up to become a ROMP insider.