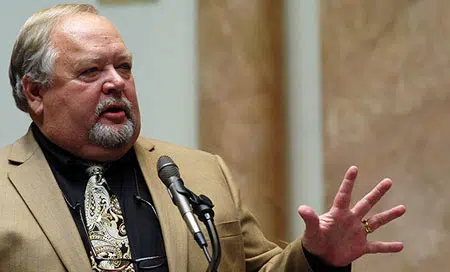 FRANKFORT, Ky. (June 23, 2017) – Representative Jim Gooch, R-Providence, testified in Washington, DC yesterday in support of President Trump's investigation into the national security implications of imports of aluminum from Canada and China.
Rep. Gooch represents the 12th district, which is home to Century Aluminum's smelter in Sebree. Aluminum is used to make products for the automotive and aerospace industry as well as our national defense.
"Since 1995, I have had the honor of representing Kentucky's 12th district, home to Century Aluminum's Sebree smelter and the skilled, hard working men and women who make it run.  I like to call these men and women and others like them the backbone of America," said Rep. Gooch, who chairs the House Natural Resources and Energy Committee.  "Unfortunately, these hard working Americans, the aluminum industry, and American national security are facing a dire threat because of decisions that bureaucrats as far away as China have made."
U.S. production of aluminum declined at least 47 percent last year, largely due to Chinese subsidies which have led to overproduction in the market. Since 2000, China has increased its share of the world aluminum market from less than 11 percent to nearly 53 percent. The U.S. share of the global market dropped from 16 percent in 2000 to less than 2 percent last year.
"It is impossible to overstate how important these aluminum plants are to our economy and our local communities.  I know this because I see it first hand, day in and day out," Rep. Gooch testified on Thursday.  "We are already at the tipping point for what is left of this great industry.  I urge you to take action to allow our aluminum producers to pull themselves back from the brink and continue playing their important roles in our national defense, our economy, and our communities."
In addition to the Sebree smelter, Kentucky is home to Century's smelter in Hawesville, the only U.S. smelter that produces high-purity aluminum for U.S. fighter jets. Braidy Industries also announced in April that is will be locating an aluminum rolling mill in Greenup County, with a $1.3 billion investment that will create 550 jobs.