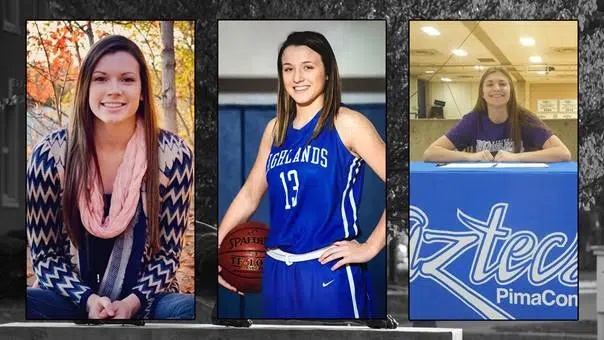 The Kentucky Wesleyan College women's basketball team signed three new members this week in Abbie Heischman, Jenna Martin and Bree Cates to round out its 2017-18 roster.
Abbie Heischman hails from Leo, Indiana where she was a four-year varsity starter for the Lions.  The shooting guard earned All-Conference honors all four seasons after amassing 914 career points along with 359 rebounds.  Heischman recorded a career high 20 points during her senior season in which she averaged 11.3 points per game and 3.1 steals per game.  Heischman was also a four-year starter with the softball team where she was a three-time sectional champion and one-time state champion with two All-Conference honors at the shortstop position.
"We are absolutely thrilled to have Abbie join our program," noted Co-Head Coaches Caleb and Nicole Nieman.  "She is a player that will be fun to watch due to her athleticism and willingness to do whatever it takes to help her team out."
Jenna Martin was a five-year varsity starter at Highlands High School in Dry Ridge, Ky.  The Bluebirds were district champions this past season with a record of 22-9.  Martin brought home the Most Valuable Player Award her final two seasons with a career total of 1,642 points.  Martin averaged 17.1 points per game during her senior season with 88 three pointers on the year.  The point guard tabbed a career high 31 points against Cooper this past January.
"Jenna is a player that loves to compete and shows her toughness and passion for the game during every play," said Nieman.  "We are fortunate to have her coming into our program as she is multi-dimensional and will bring a strong skillset to the Sportscenter."
Bree Cates will join the Panthers from Pima Community College in Tuscon, Ariz.  The guard started in all 31 games for Pima this past season, averaging 14.5 points, 3.5 rebounds and 1.1 steals per game.  Cates earned All-Conference and All-Region honors and also was named to the NJCAA All-Academic team.  The Port Huron, Mich. native helped the Aztecs to a 23-8 record and a second place finish at the Regional tournament.
"As a transfer scholar-athlete, Bree will bring a lot of experience to our extremely young team," commented Nieman.  "All throughout the recruiting process, we knew that she would be a great fit to our culture at Wesleyan both athletically and academically."