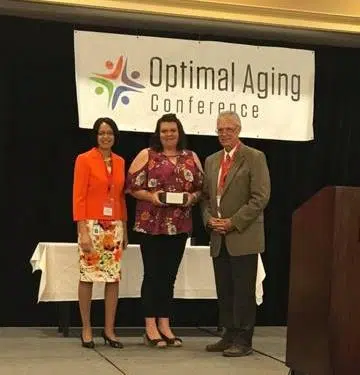 Melissa Polites, Union County Senior Services Director, and Dana Peveler, Executive Director of the Munday Activity Center in Daviess County, recently received statewide recognition for their work in the area of senior services.  Melissa Polites was awarded Senior Center Director of the Year, and Ms. Peveler was selected as Advocate of the Year.
The awards are given in recognition of individuals who have made a positive impact on the quality of life of those aged or disabled.  Melissa Polites was recognized for her outstanding programs and services at the Union County Senior Center.  Specifically the nomination focused on innovative and thoughtful programs such as the raised vegetable garden at the center which provides fresh food to homebound Union County Seniors.  Dana Peveler was recognized for her efforts in leading the Program for Enriching And Rewarding Lives for Seniors (PEARLS) and extending the program throughout the region.  PEARLS is an evidence-based program designed to treat minor depression and dysthymic disorder in older adults.
Senior Service directors play a vital role in their communities coordinating social activities, providing health education, advocating for the needs of seniors, in addition to overseeing their county senior nutrition program.