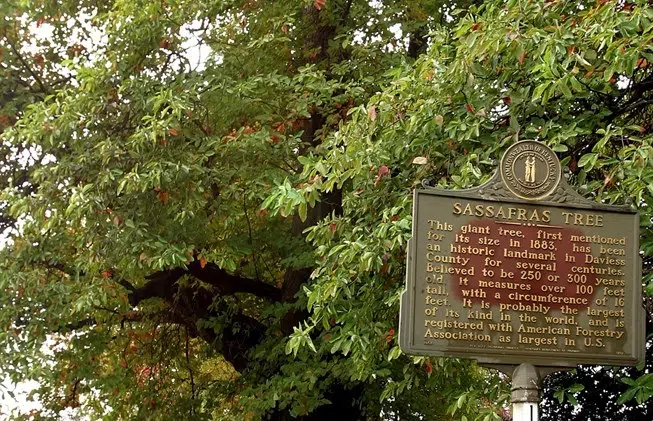 As I was driving back to the radio station down Frederica Street, I drove past EM Ford (2100 Frederica Street) and it dawned on me that in their front lawn is an impressive piece of history. There's a HUGE Sassafras tree for everyone to see. I knew about this tree for years, but it just kind of quietly sits there. We all drive by without really noticing and appreciating this amazing tree.
I decided to pull in and take a gander at the "ol gal" and then did a little research. Wikipedia states that the largest known sassafras tree in the world is located in our own backyard and measures over 100 feet high and 21 feet in circumference. It's approximately 300 years old. A few other sassafras trees are 60 feet or taller, but the average sassafras is 30 to 50 feet tall.
It's just a reminder that we have amazing history to checkout right HERE in Owensboro. There are so many fantastic sites and history to be found, like this amazing tree. Stop sometime and check it!
Other historical suggested places:
The campus of Kentucky Wesleyan College.
Carnegie Free Public Library
Trinity Episcopal Church
Pleasant Grove Baptist Church
D.D. Bogard House on east 4th street
The Confederate Monument on the courthouse lawn, erect in 1900