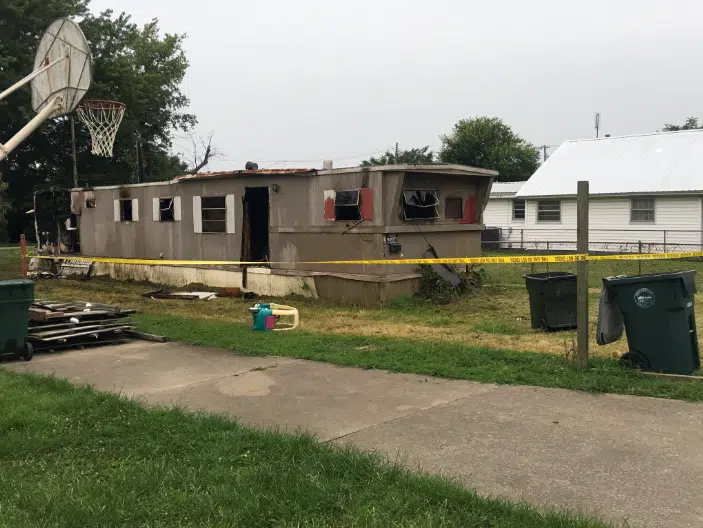 OWENSBORO, KY (WFIE) –A fire damaged a mobile home in Owensboro while the family who lived there was at the hospital having a baby boy.
According to the Owensboro Fire Department's Facebook page, crews were called to the 500 block of Hall Street around 3:15 Thursday morning. When they got there crews found the rear of the home on fire.
Firefighters quickly got the fire under control and contained the flames to the rear of the home, but there was extensive damage throughout the unit and a family dog was killed. OFD Chief Steve Mitchell tells us crews found the family's dog under the bed in the house and that the homeowner buried it today.
The Red Cross responded to the scene. They tell us that their case workers will continue to check in with the family in the coming weeks to see how they can assist them.
The cause of the fire is under investigation. Chief Mitchell tells us they are ruling the cause to be accidental at this time. He says this is the first time in his decades of work that he's seen a family having a baby while their house caught fire.
Locals are not wasting any time in seeing how they can help. Comments on our initial post about the fire led us to Zion United Church of Christ where a group called Working Hands runs on donations to give families a hands up.
Zion United Church of Christ Pastor Lori Keller Schroeder says, "People's hearts here in Owensboro tend to be big, and if there's a crisis like this it's very easy to amass some assistance very quickly. So, beyond our family that we're dealing with here, just anybody else who's in crisis, again, there tends to be a lot of generous folks out there."
Working Hands Director Dianne Morris tells us they are working through a direct family member of the family who lost everything in that fire. She says the nonprofit usually helps people with daily needs, but for special situations like this, they want to do whatever they can to comfort the family.
"You know they've just had a new baby and have lost everything they have. That's where we'd love to step in and help if it's with clothes or household items because you know they've lost everything," says Morris.
Morris tells us anyone can donate items or gift cards to Zion United Church of Christ, earmarked for the Lindsey family. If you would like to donate or find out more information, you can call the church at (270) 683-3811 or visit their office at 625 Allen St, Owensboro, KY 42303.