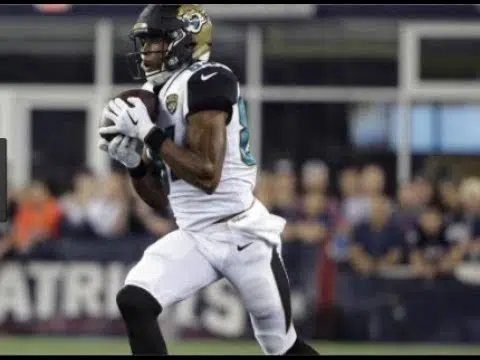 Kentucky Wesleyan College football and head coach Brent Holsclaw can now claim to have a Panther that has made it to the NFL. Former Panther WR Keelan Cole has earned a spot on the 53-man roster of the Jacksonville Jaguars as announced today!.  Cole is the 42nd player in the 23 year history of the Jaguars to make the roster as an undrafted rookie.
Cole made an immediate impression on the Jaguars and NFL scouts in his 1st preseason game, a 31-24 victory over the defending Super Bowl Champions New England Patriots by catching his first professional pass which resulted in a 97-yard touchdown from Chad Henne, giving the Jaguars a 10-3 lead in the first half.
The 97-yard play was the longest touchdown reception by an undrafted free agent until Damore'ea Stringfellow with the Miami Dolphins caught a 99-yard touchdown pass less than an hour later.
The multi faceted KWC product has been one of the stars of camp even though he has dropped touchdown passes in back-to-back preseason games. He's a help on special teams coverage units and can return punts as well. Showing his ability to be utilized in so many aspects of the game for Jacksonville sealed the deal in the decision to retain Keelan in one of the cherished 53 spots!
Cole will make his debut as an official NFL player for the Jacksonville Jaguars 1st game of the season against the Houston Texans.  KWC fans can check the game out on CBS 12 pm CT on Sept. 10.