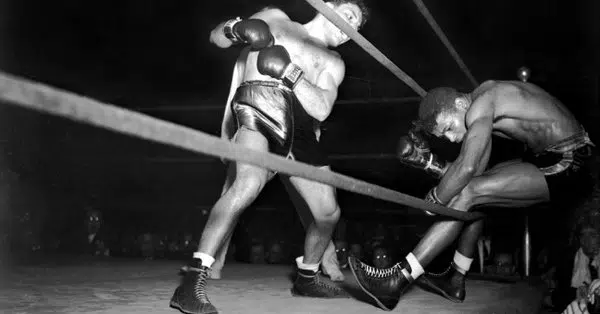 It is eerie how things in life happen. Just this weekend I was re-watching the great movie "The Hustler" with Paul Newman, Jackie Gleason and George C. Scott. Many don't know that Jake LaMotta, the legendary Middleweight boxing champ whose 6 fight's with Sugar Ray Robinson are stuff of legend and subject of the Martin Scorsese movie "Raging Bull" portrayed by Robert De Niro, played the bartender in The Hustler. Today the sad news was announced that LaMotta has passed away.
Jake LaMotta, former middleweight champion and subject of the 1980 movie "Raging Bull," has died at the age of 95.
LaMotta died because of complications from pneumonia and was in a nursing home.
Born on July 10, 1922, on New York City's Lower East Side and raised in the Bronx, LaMotta learned to fight at an early age when his father forced him to brawl with other children for the amusement of neighborhood adults. The elder LaMotta paid part of their rent with the coins tossed into the ring.
LaMotta was sent to reform school as a teenager for committing petty crimes. There he learned to box. He would go pro as a boxer in 1941 at the age of 19 and avoided military service because of an ear injury, and the United States entered World War II that December.
After boxing, LaMotta opened several bars, including one in Miami Beach as well as several acting appearances and even a stint in an off broadway  show.
Known for his battles with Sugar Ray Robinson, LaMotta held the middleweight title from 1949 to 1951 and was inducted into the International Boxing Hall of Fame in 1990.
LaMotta went 83-19-4 with 30 knockouts in a career that lasted from 1941 to 1954. He fought multiple times in a month several times, earning a reputation as a brawler and the nickname "Bronx Bull."
On Oct. 2, 1942, at New York's Madison Square Garden, LaMotta faced Robinson for the first of their six ferocious fights. Robinson, fighting as a welterweight, was 35-0 with 27 knockouts at the time. He bloodied LaMotta and won a 10-round unanimous decision.
After the fight, Robinson said, "I never fought a fighter as strong as he is."
The following year, LaMotta and Robinson fought twice in the same month at Detroit's Olympia Stadium. On Feb. 5, 1943, LaMotta handed Robinson his first defeat, with a 10-round unanimous decision that included the Bronx Bull knocking Robinson through the ropes in the eighth round. Three weeks later, Robinson would take the rematch, winning a unanimous decision despite being floored in the seventh round.
Robinson would defeat LaMotta twice in 1945, including a 12-round split decision.
In 1997, as part of its 75th anniversary, Ring Magazine named LaMotta as having the best boxing chin. Robinson was named greatest fighter.