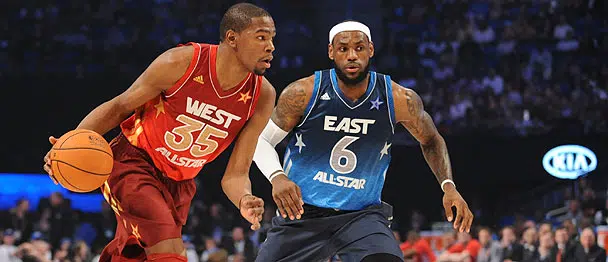 The NBA All-Star Game will switch formats this season, as two captains will select the teams regardless of which conferences the players play in, the league announced Tuesday.
The players who win the fan vote from each conference will be the captains.
We all know how it was growing up and the dynamics of picking a team playground style and all the issues that arose from those that weren't picked 1st or God forbid you didn't pick your best friend for your team! Now imagine those same issues with grown men and their professional ego's on the line, not to mention passing over a fellow teammate.  The format will add a layer of intrigue as the captains will have to consider an array of factors when making the playground-style selections and add spice to the event. It has the potential to create extra meaning as past, current and future relationships between players may be considered when making the selections.
There will still be 12 players selected from each conference for the February 18th game in Los Angeles. Five players from each conference will be selected as starters with fan vote being worth 50 percent, player vote worth 25 percent and media vote 25 percent. Seven reserves for each team will be picked by each conference's head coaches.
The new system will enable players from each conference to play against each other and allows current teammates to face off. Starters will be picked first so the 10 players voted in as starters will remain that way.
All-Star voting will begin on Christmas Day.
The timing and details of the All-Star draft has not yet been determined, but it will be before All-Star Weekend. The starters will be announced on Jan. 18 and the reserves on Jan. 23.