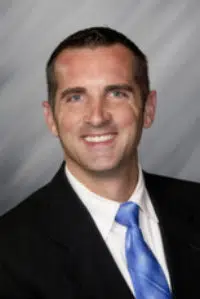 Governor Eric J. Holcomb and Indiana Department of Natural Resources Director Cameron F. Clark announced today that state Rep. Lloyd B. Arnold has been appointed director of law enforcement for the Indiana Department of Natural Resources (DNR) beginning October 23. Arnold has been the state representative for District 74 since November 2012, serving Crawford, Dubois, Orange, Perry and Spencer counties. As a state representative, he served as vice chair of the Natural Resources Committee and was a member of the Agriculture, Veterans Affairs and Public Safety, and Elections and Appointments committees.
"I am honored by this opportunity to lead Indiana's conservation officers," Arnold said. "While it has been my great privilege to represent the citizens of House District 74, I look forward to continuing my service to Hoosiers in this new role."
Arnold joined the U.S. Army after graduating from Perry Central High School in 1992. He later joined the Indiana National Guard and was commissioned as a lieutenant in 1998. In 2003, he served the Indiana National Guard in Iraq as an executive officer. While in Iraq, he was awarded the Bronze Star and Combat Infantry Badge. Arnold's tradition of public service continued as a reserve sheriff's deputy in Crawford County and as a representative on the sheriff department's merit board.
In 2007, Arnold opened Crawford County's first franchise of Servpro, a water and fire damage business. He later sold his business while serving at the Statehouse and became executive director of the Orange County Economic Development Partnership.
Arnold and his wife have been married for 20 years and have four sons. They are members of Hillview Christian Church.
Photo: IN.gov