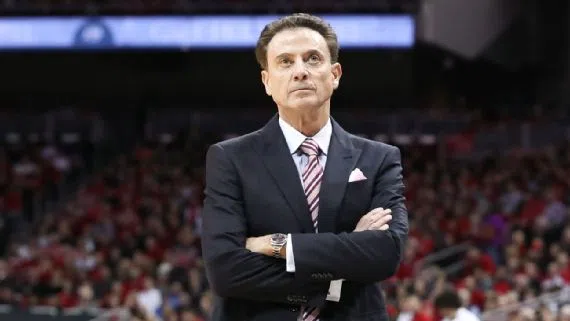 Louisville's athletic board voted unanimously to fire Rick Pitino despite arguments earlier Monday from his lawyers that the Hall of Fame coach had no knowledge of activities alleged in an FBI investigation.
The University of Louisville Athletic Association met for more than five hours Monday before making their decision. Pitino did not attend the meeting, but his lawyers submitted an affidavit on his behalf that said the coach disputes the board's right to fire him.
"We listened carefully to what they said, we read carefully everything they gave us in the booklet of materials, and at the end of the conversation, we felt that our initial decision to begin the process of termination for cause was still in the best interest of the university and that's why the resolution was put forward and passed," Louisville interim president Greg Postel said following the announcement.
"There isn't just a single reason. There were a number of issues that, over time, were brought to our attention. And we simply felt that this was in the best interest of the university and make the decision at this point in time."
Pitino has $44 million remaining in salary and bonuses in a contract extension through the 2025-26 season. Postel said the board did not discuss a buyout or settlement.
"I had no part — active, passive, or through willful ignorance — in the conspiracy described in the complaint," Pitino said in the affidavit. "I had no reason to know about the conspiracy described in the complaint, and no reason to know about the complicity of any UL assistant coach or staff member in any bribery conspiracy. I never have had any part — active, passive, or through willful ignorance — in any effort, successful or unsuccessful, completed or abandoned, to pay any recruit, or any family member of a recruit, or anyone else on a recruit's behalf, as an inducement to attend UL."
Steve Pence, one of the attorneys representing Pitino, entered the morning meeting holding a poster board for presentation to the ULAA. Pence later distributed the detailed 55-page document that includes letters of support for Pitino, including one from David Padgett, who was named as Pitino's interim replacement on Sept. 29.
Pence's statement included a polygraph result indicating that Pitino was not deceptive in answering that he did not pay Bowen's family and did not know that Bowen's family was paid.
Pitino admitted he has communicated with Gatto, the director of global sports marketing for Adidas, but never discussed providing improper benefits to a player or recruit.