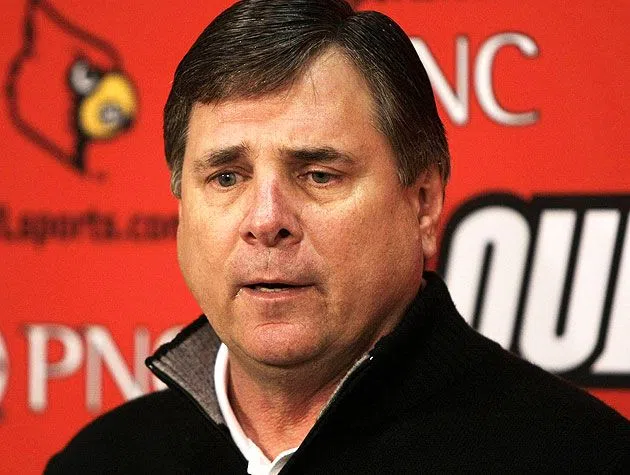 In a letter sent to Tom Jurich to justify his firing as Louisville athletic director with cause, interim president Gregory Postel alleges that Jurich engaged in willful misconduct.
In the letter Postel writes that Jurich's willful misconduct "was demonstrated through ineffective management, divisive leadership, unprofessional conduct, and a lack of collegiality best characterized as intimidation and bullying that extends from student government to the University's senior leadership" causing "substantial damage" to Louisville.
The law firm representing Jurich, Frost Brown Todd Attorneys, responded Tuesday with a statement in which it called Postel's letter "an attempt to smear the reputation" of the former AD by "reciting untrue, unproven allegations."
"Tom Jurich unequivocally denies all the allegations and implications emanating from those allegations. The letter of termination is an after-the-fact effort to justify an unwarranted termination 'for cause' that the Board of Trustees voted without specifying any charges, at all."
Postel alleges in the letter that Jurich failed in his duty to promote "zero tolerance" for infractions as he "deliberately refused or delayed taking any meaningful disciplinary or enforcement action."
A review of athletic department personnel files for all of the university's varsity coaches — some employed by Louisville for 10 years or more — "do not contain a single performance assessment or disciplinary memorandum issued by you," Postel stated.
"The effect of your willful refusal to supervise and discipline the individuals who report to you — in the face of nationally publicized transgressions — has been to create a culture of tolerance within University Athletics for behavior that falls far short of NCAA, ACC, and University expectations,"
Postel also alleges in his letter that Jurich entered into "multiple purported agreements or understandings with former President (James) Ramsey for your own financial or other benefit … with the intent of concealing them from campus or public knowledge." Those deals, which weren't approved by the ULAA Board or Louisville's Board of Trustees, "constitute repeated breaches of your fiduciary duty,"
Frost Brown Todd Attorneys called the allegations of fiduciary wrongdoing "simply untrue."
"The contracts were clearly subject to the open records act and were in fact, widely published in local and national news media," Jurich's attorneys wrote.
They said they "will vigorously defend his rights under his long-standing contract with the University of Louisville."
"It is unfortunate that President Postel and Board Chair (David) Grissom have chosen to attempt a character assassination of a man who has done so much for Louisville."