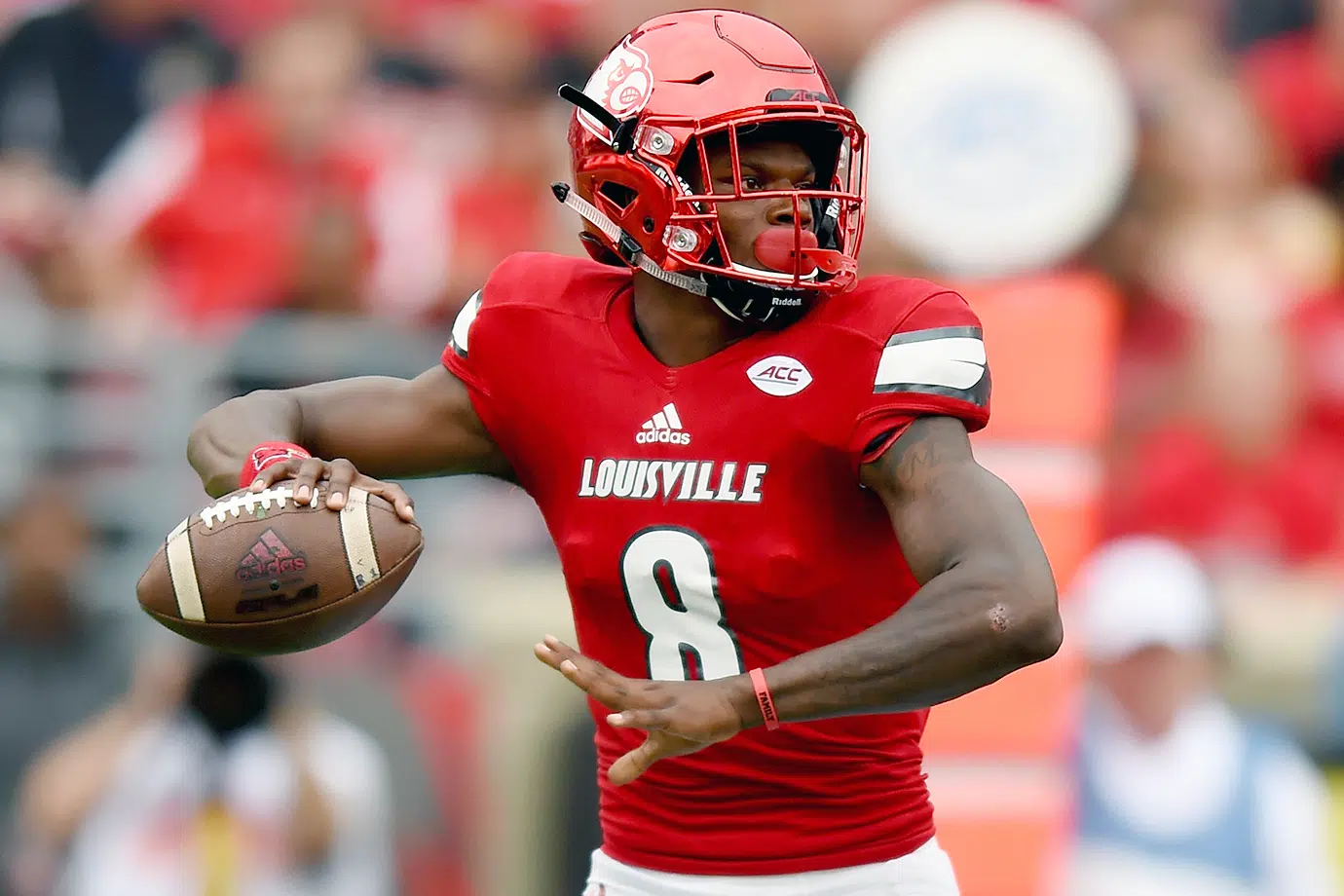 A a semifinalist for the Maxwell Award, University of Louisville quarterback Lamar Jackson was named one of 16 semifinalists on Tuesday for the Davey O'Brien Award which is given to the nation's top quarterback.
The 2016 Heisman Trophy winner was a finalist for the award last season.  Jackson leads nation in total offense at 426.3 yards per game, leads the Atlantic Coast Conference in total offense, passing yards per game (312.0), rushing yards per game (114.3), rushing touchdowns (14), points responsible for (196) and total points (84).
Statistically, Jackson, who accounted for 5,114 yards of total offense and 51 touchdowns last season, has amassed 3,837 yards and 32 touchdowns in 2017. He's completed 196-of-326 passes this year with 18 touchdowns to just six interceptions while throwing for 2,808 yards and rushing for 1,029 yards and another 14 scores.
Rushing for 161 yards in a loss to Wake Forest on Oct. 28, Jackson became only the fourth player in school history to rush for over 1,000 yards in consecutive seasons, extending his school record for career rushing yards to 3,560 and 46 touchdowns.
The native of Pompano Beach, who already holds the school mark for career 100-yard rushing games with 19, also broke the record for career 150-yard games with 11.
As a passer, Jackson has thrown for over 300 yards in six games this season and owns a streak of nine-straight games with a touchdown throw. He sit in fifth all-time in school history with 8,191 yards and 60 touchdowns.
With 330 yards passing versus the Demon Deacons, Jackson became only the fourth player in NCAA history to pass for over 8,000 yards and rush for 3,000 yards in a career.
The Davey O'Brien Foundation award selection committee will release the names of the three finalists on Tuesday, Nov. 21st which will be announced live on The Home Depot College Football Awards on Thursday, Dec. 7. The 41st Annual Davey O'Brien Awards Dinner will be held Monday, Feb. 19, 2018, at The Fort Worth Club in Fort Worth, Texas.