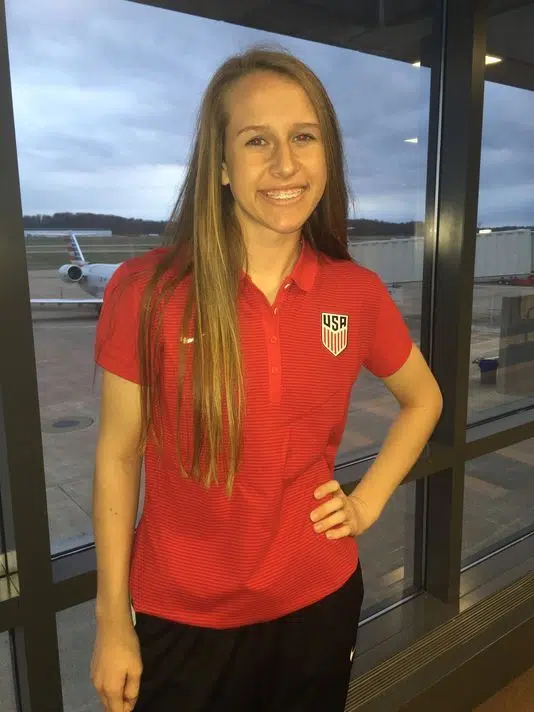 Owensboro Catholic senior Ambere Barnett has closed out her soccer career for the Lady Aces with the most prestigious honor of all of the numerous awards she has already collected as Barnett was named Miss Kentucky Soccer on Saturday, as announced by the Kentucky High School Girls Soccer Coaches Association.
Owensboro Catholic's Ambere Barnett was also voted the Region 3 girls' soccer Player of the Year by the Kentucky High School Girls' Soccer Coaches Association. OCHS' Lady Aces also placed Lily Moore, Genarose Jones and Ellie Mitchell on the squad.
Daviess County's Lady Panther's coming off of a 20 & 6 season which included a trip to state have high five players on the first team including Natalie Hinchcliffe, Chloe Hinchcliffe, Annie Stauffer, Kenlee Newcom and Ashlyn Payton.
Rounding out the first team are Apollo's Shelby Taylor and Natalie Smith and Ohio County's Ivy Johnson.
Those making the 2nd team include Isabelle Stanfield, Eliza Hyland, Kara Morris and Lauren Eyre of Owensboro Catholic, Sarah Grace Southard, Jasmine Hamilton and Shelby Stearsman of Ohio County, Bree Owen of Daviess County and Keely Dennis of Muhlenberg County.
Earning honorable mention recognition are Bobbi Sandifer and Meredith Campbell of Daviess County, Kaylee Morris and Gabrielle Sutton of Owensboro Catholic, Maliyah Taylor and Macey Cundiff of Owensboro, Madi Maikranz and Avery Asberry of Ohio County, Raegan Blackburn of Muhlenberg County and and Myla Scott of McLean County.