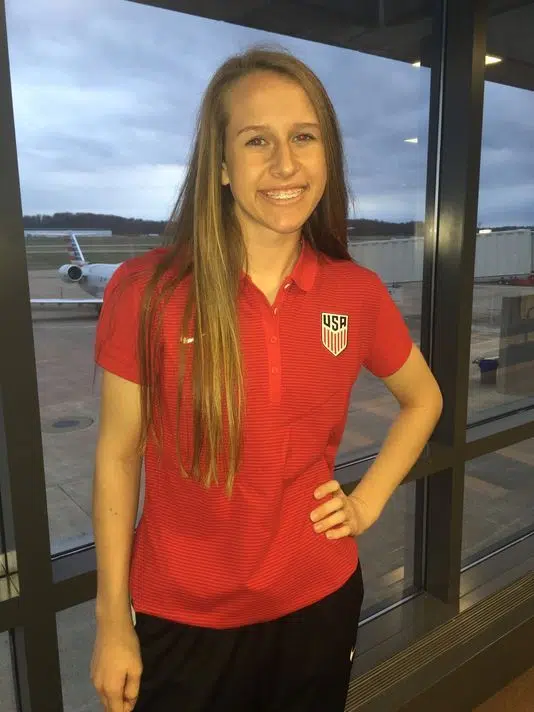 Ambere Barnett continues to receive more and more honors as the Aces soccer star and 2017 Miss Kentucky Soccer will play in the 2017 High School All-American Soccer Game this Saturday, December 2, 2017, in Orlando, FL.
The tournament started by Eric Stratman who for several years had always wondered why there wasn't an all-american game for soccer players like there is for so many other sports. Every year Stratman said he was going to change that and every year it never happened. So finally, after the 2010 season completed he decided not to wait anymore and it was time to start the process.
​
Starting an All-American game in soccer is unique to any other sport because high school soccer isn't played all at the same time. Some states play in the fall, some the spring and some in the winter. In order to get the foundation set the tournament would focus on having a game for fall playing states only and start with just a boys game in 2011. Birmingham, AL,  was the initial site chosen because it was where the men's NCAA Division I college cup was being played. After two years of the boys game, we started a fall girls game.
The 2017 Boys and Girls high school soccer Fall All-American game will be held on December 2, 2017 at Celebration High School in Orlando, FL. with the girl's game at 11:00 AM E.T. and the boys game at 1:00 PM E.T.
Ambere is a part of the WEST Team which includes players from states from the Mid-West to the West Coast facing an Est team with players from primarily the East Coast!
Best of luck to Ambere this weekend from everyone at 1027 The Game — ESPN Owensboro and we will have the results from this weekends game on Monday's LIVE @ 5, as well as an extra thanks to Ambere's Mom Debra, we are working on having Ambere on again next week to talk about her experience!
Here are the complete rosters for this Saturday's game:
West Roster
Ana Aguado (Robbinsdale Armstrong – Plymouth, MN.)
Lexi Baca (Cibola High – Cibola, NM.)
Ambere Barnett (Owensboro Catholic – Owensboro, KY.)
Lexa Bauer (Toledo Notre Dame – Toledo, OH.)
Sophia Braun (Portland Jesuit – Portland, OR.)
Marissa Carpenter (Skyline High – Sammamish, WA.)
Makayla Christianson (Centennial High – Boise, ID.)
Sydney Collins (Portland Jesuit – Portland, OR.)
Kristina DeMarco (Perrysburg High – Perrysburg, OH.)
Vanessa DiNardo (Strongsville High – Strongsville, OH.)
Madison Ellsworth (Hillsboro High – Hillsboro, OR.)
Meredith Haakenson (Maple Grove High – Maple Grove, MN.)
Janiece Joyner (Medina High – Medina, OH.)
Cassidy Lindley (Guerin Catholic – Noblesville, IN.)
Claudia Longo (Issaquah High – Issaquah, WA.)
Kristina Lynch (Penn High – Mishawaka, IN.)
Erin Keefe (Ridge High – Basking Ridge, NJ.)
Lauren Rakytiak (Strongsville High – Strongsville, OH.)
Katie Soderstrom (Carmel High – Carmel, IN.)
Maria Van Halm (Issaquah High – Issaquah, WA.)
Mackenzie Wood (Penn High – Mishawaka, IN.)
East Roster
Christina Bacon (Pomfret School – Pomfret Center, CT.)
Tori Bike (St. Joseph – Trumbull, CT.)
Emily Clorite (Choate Rosemary Hall – Wallingford, CT.)
Sara D'Appalonia (Yarmouth High – Yarmouth, ME.)
Giovanna DeMarco (Penn Charter – Philadelphia, PA.)
Emily Denunzio (Darien High – Darien, CT.)
Kayla Duran (Buckingham, Brown & Nichols – Cambridge, MA.)
Cara Easter (John Stark Regional – Weare, NH.)
Molly Feighan (Arlington High – Lagrangeville, NY.)
Elayna Grillakis (Central Catholic – St. Lawrence, MA.)
Emily Harrigan (Norwin High – Norwin, PA.)
Alison Heckman (Manheim Township – Lancaster, PA.)
Kayla Lee (Colts Neck High – Colts Neck, NJ.)
Grace Moore (Rocky Hill High – Rocky Hill, CT.)
Amy Paternoster (Wall High – Wall Township, NJ.)
Mackenzie Pluck (Germantown Academy – Ft. Washington, PA.)
Margot Ridgeway (Rumson Fair Haven (Rumson, NJ.)
Jenna Royson (Toms River North – Toms River, NJ.)
Holland Stam (Pingree School – South Hamilton, MA.)
Mimi Stines (Summit Country Day – Cincinnati, OH.)
Lauren Tangney (Fairfield Warde High – Fairfield, CT.)
For more information go to https://www.highschoolsoccerallamerican.com/