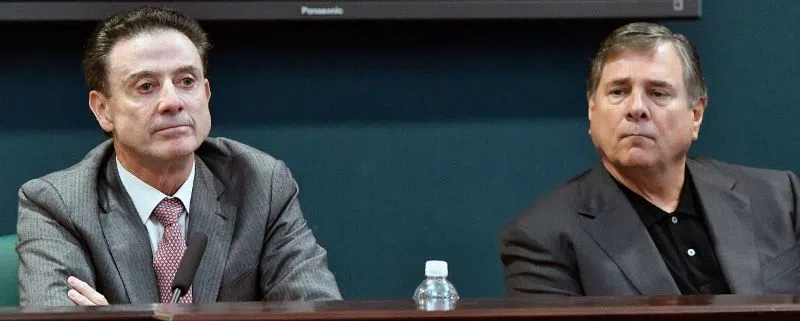 One of the ways universities justify having big-time sports programs is by claiming they serve as the school's front porch. Think of the way Penn State and Notre Dame morphed into major research institutions on the backs of football success. Or the way Gonzaga and Butler rose from obscurity thanks to their basketball teams. For all the problems with college sports, the success of a nationally recognized football or basketball team can increase the quality of applicants, the size of donations, and the happiness of students and alumni.
For a long time, though, the Louisville Cardinals basketball team played a different role: It was a kind of Potemkin Village, not so much elevating the university as hiding it. Louisville was a commuter school with a reputation so lackluster that a professor once told the Courier-Journal, "When I have a really first-class undergraduate, I tell them to transfer." A 1904 bronze cast of Rodin's The Thinker stood outside the administration building, and the law school was named for its most famous alumnus, Louis Brandeis. But as far as prestige went, that was about it. It's said that when Junior Bridgeman, one of the school's greatest players, was being recruited, he was brought in during the dead of night because the Louisville coaches didn't want his first impression to be one of  the campus.
As for the city of Louisville, it was just as basketball mad as the rest of basketball-mad Kentucky. Going back to the days of coach Denny Crum, who led the program from 1971 to 2001, "nobody in Louisville planned a dinner party or a charitable event without checking the basketball calendar," says Representative John Yarmuth, a Democrat whose district includes Louisville. "Otherwise there wouldn't be a lot of people there." Season tickets were treasured, handed down through the generations. Played in 18,000-seat Freedom Hall, a 1956 structure built by the state, the Cardinals' games were often in the top five for attendance among college basketball teams.
Surrounded by the larger cities of Cincinnati, St. Louis, and Nashville, Louisville often felt like a stepchild, fighting for respect. Basketball helped. But even there, the Cardinals for years played second fiddle to the mighty University of Kentucky, which treated its cross-state rival with such disdain that it wouldn't even schedule a game, not even after Crum in 1980 won his first of two national championships. That only changed in 1983, after Kentucky was forced to play Louisville in an NCAA tournament game—which the Cardinals won, much to the city's delight. The legislature had to pass a resolution urging the two schools to start playing before the matchup  became a regular event.
By the time Jurich was named Louisville athletic director in 1997, Crum was about to hit the worst patch of his Hall of Fame career, bottoming out with a 12-19 record in 2001. Jurich, a former athletic director at Colorado State, told a few members of the hiring committee they were "sitting on a gold mine." First, though, he needed a winning basketball team. So he jettisoned Crum before the 2001 season ended, arranging for a $7 million severance payment and for the university to pay him more than $300,000 a year to act as a part-time glad-hander.
Then Jurich brought in the charismatic Pitino, who in the 1990s had revived a troubled University of Kentucky program. Back then Pitino was a hated man in Louisville, but once he started winning at Louisville, the city embraced him. Jurich was in business.
Around the time Pitino arrived, a group of Louisville businessmen and politicians were making a concerted effort to land an NBA team. In part, this was a play for economic development. Louisville could see how pro football and hockey helped revitalize Nashville. But it also came just as much from a desire for respect. The city burghers even had a nonbinding agreement with the Charlotte Hornets, which wanted to relocate. The plan centered around building a downtown arena that the Hornets and the Cardinals would share.
Jurich and Pitino had other ideas. They had no intention of sharing an arena with an NBA team—they didn't even want to share the city with an NBA team. Louisville was theirs. David Stern, who was then commissioner of the NBA, recalls thinking, "If Rick Pitino doesn't want us there, why are we going there?" The Hornets went to New Orleans instead.
Louisville city leaders decided to proceed with an arena anyway, hoping to use it as a centerpiece for downtown development. To help pay for it, the city gave the area around the arena a designation that allowed it to use property tax increases to pay bondholders. Louisville-based Yum! Brands Inc., which owns KFC, Pizza Hut, and other fast-food companies, paid $13.5 million over 10 years for the naming rights. But the arena also needed a tenant, and there was only one possibility: the Cardinals.
The Charlotte Hornets however moved to New Orleans in 2002 to become the New Orleans Hornets. In 2013, they became the New Orleans Pelicans.
Although we all know how things change and there is no guarantee that the current situation would been the same with all the anomalies that happen in life, had the NBA franchise found a home in Louisville, but imagine what it would be like now in this basketball crazy state with the Pelicans current roster of Anthony Davis, DeMarcus Cousins, Rajon Rondo, and Darius Miller, playing professional basketball in Louisville right now. One could only dream that such a thing would have or could have been possible. Sadly enough, we'll never know, but just the thought is mind blowing!
*** excerpts of article "College Basketball Made Louisville, Then Broke It" courtesy of Bloomberg.com