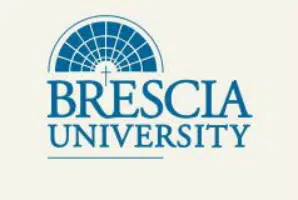 Brescia University has received a $1.3 Million gift from Roy and Victoria Duffy Roberts of Raleigh, North Carolina. The contribution will support the "Gateway to Our Second Century" capital campaign.  The University will recognize the Roberts' generosity by establishing the Roy and Victoria Duffy Roberts Center for the Sciences at Brescia University which currently houses the Division of Math and Natural Sciences, the Division of Social and Behavioral Sciences, the Office of Information Technology, the Taylor Lecture Hall, as well as classrooms, computer labs, and a variety of offices.  Their gift will also provide for the establishment of a 150 seat auditorium and an executive boardroom/classroom, both to be housed in the future C.E. Field Center for Academic Studies, soon to be constructed on the corner of 9th and Frederica Streets.   
Mr. Roberts, an Owensboro native, is a 1968 graduate of then Brescia College, holding a B.S. in Mathematics with a minor in Physics.  He earned his MBA from the Lacy School of Business at Butler University.  He has studied entrepreneurial professional development at the Kellogg School of Management at Northwestern University, advanced banking at Princeton University and international banking at the Wharton School.  He is the Chief Executive Officer and Owner of Alliance of Professionals & Consultants, Inc. (APC), headquartered in Raleigh, North Carolina.  It is located in 44 states, Canada, and provides services worldwide.  
Prior to building his own firm, he spent the entirety of his career with the IBM Corporation from 1968 until he took full retirement in 1993 to start APC.  APC is a multiple INC 500 award winner business focused on professional services specialized in business, artificial intelligence, analytics, IT, engineering, and other highly skilled talent.  APC offers a full suite of business solutions for Fortune 500 to mid-sized companies.  It was selected by the US Department of Commerce as the National Professional Services Firm of the Year in 2016 and 2008. Mr. Roberts is a member of the Brescia University Board of Trustees.  He is also the President of the American Indian Chamber of Commerce North Carolina, Treasurer of the Brownleigh Business Park Association, and is a past board member of the National Advisory Council on Minority Business Enterprise.   
Mrs. Vicki Roberts, also an Owensboro native, is a 1967 graduate of the Brescia College, holding a B.S. in Medical Technology.  Both Mr. and Mrs. Roberts have been inducted into the University's Hall of Distinguished Alumni for their service to their community, accomplishments in business, and exemplification of the Brescia Difference.   
Mr. Robert said, "Brescia provides learning for life and not just for the next exam.  The quality of education available compares and, in some cases, exceeds many of the world-class universities that I have attended. Their most important impact is providing a life-changing opportunity for many first-generations-to-attend-college.  Brescia makes a profound difference in the lives of many individuals and the extended community." 
"I am deeply grateful to Roy and Vicki for their willingness to share in Brescia's future in such a generous way.  The Roberts' are great examples of what is possible with hard work, intelligence, and drive.  We are proud of Roy and Vicki for all they have accomplished and appreciate their incredible trust and investment in the Brescia mission," stated Father Larry Hostetter, President of Brescia University.  
The C.E. Field Center for Professional Studies, to be built on the corner of 9th Street and Frederica Street later this year, is the second of two major construction initiatives funded by the University's "Gateway to Our Second Century" Capital Campaign.  It will house the Charles Albert Reid School of Business, including the William H. Thompson Center for Business Graduate Studies, the School of Education (still to be named), and the Marilyn Younger Conley School of Social Work.  The building will also feature the University's art gallery, a small chapel area, a digital studio for innovative learning, computer labs, and seminar rooms.
Ground will be broken on the project on April 26th signifying the launch of the second phase of "The Campaign for Brescia University: Gateway to Our Second Century".  The first phase, the renovation of The Moore Center, was completed in mid-June 2017.  The construction of the C.E. Field Center for Professional Studies will cost approximately $9 million, with a total campaign cost of $15 million. The University has raised nearly $13.6 million to date.
For more information, please contact Kayla Altman, Director of Public Relations and Marketing at 270.686.2110 or kayla.altman@brescia.edu.