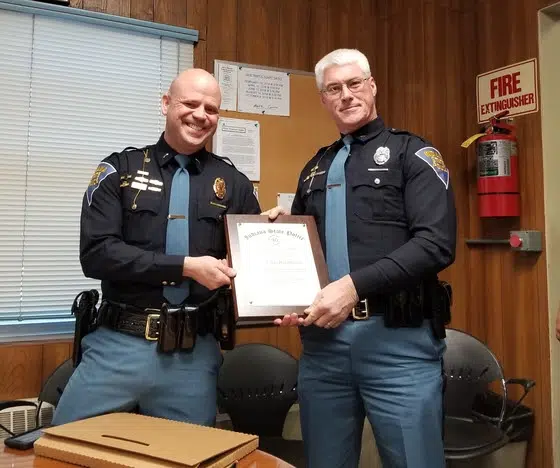 Recently, Indiana State Police Superintendent Douglas Carter recognized the members of the 45th Indiana State Police Recruit School for their 30 years of dedicated service to the State of Indiana. The Jasper Post has one member of that class amongst its ranks, and that is Master Trooper Randy Neighbors.
Master Trooper Neighbors graduated recruit school on December 19, 1987. He reported to the Jasper Post where he was assigned Crawford County for two years before transferring to Spencer County. Besides an 8.5 year stint of being assigned to the Riverboat Casinos, he has spent the majority of his career patrolling Spencer County.
One of the highlights of Randy's career occurred on March 23, 2011 when he was off duty. Master Trooper Neighbors was at home exercising when someone began knocking on his front door.  When Randy went to the door one of his neighbors had her 19 month old boy in her arms and he was choking.  Master Trooper Neighbors took the child from her and performed a couple of back blows dislodging a piece of toast from the child's throat. After the toast was dislodged the child was still having difficulties breathing and swallowing. Neighbors called 911 and instructed the child's mother to keep the child's mouth clear. An ambulance arrived and transported the child to Owensboro Health. Upon arrival at the hospital the doctors were able to remove a small plastic cap (much like one that covers the top of a pump spray bottle) that was lodged in his throat. The child was then transported Kosair Children's Hospital and was released later from the hospital in good health.
Wednesday at the Jasper Post, the Post Commander, Lieutenant Jason Allen, presented Randy with a framed certificate signed by Indiana State Police Superintendent, Douglas G. Carter. Lieutenant Allen said, "It takes a special type of person to put the uniform on and proudly serve the citizens for 30 years. For that Randy is deserving of praise and respect for his devotion and service to the Indiana State Police for a period of time in excess of thirty years."