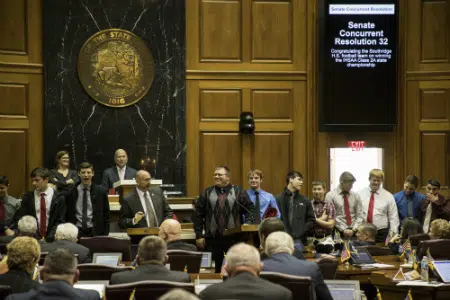 State Rep. Stephen Bartels (R-Eckerty) Tuesday at the Statehouse honored the Southridge High School football team for securing their first state championship title. Bartels presented a resolution in front of the House of Representatives, recognizing the Raiders for their resilient work and exceptional achievement. After finishing their regular season, the Southridge Raiders advanced to the state championship game at Lucas Oil Stadium in November to compete against the Warriors of Woodlan High School. The Raiders secured their state championship title over the Warriors in the last two minutes of the game with a final score of 15-14.
"I commend these athletes and coaches for their outstanding work on and off the field," Bartels said. "This is the first football state championship for Southridge, and it's something the community is incredibly proud of. This team is legendary. These students work very hard and it's an accomplishment they'll remember for a lifetime."
State Rep. Stephen Bartels (R-Eckerty) represents House District 74, which includes portions of Spencer, Dubois, Perry, Crawford and Orange counties.