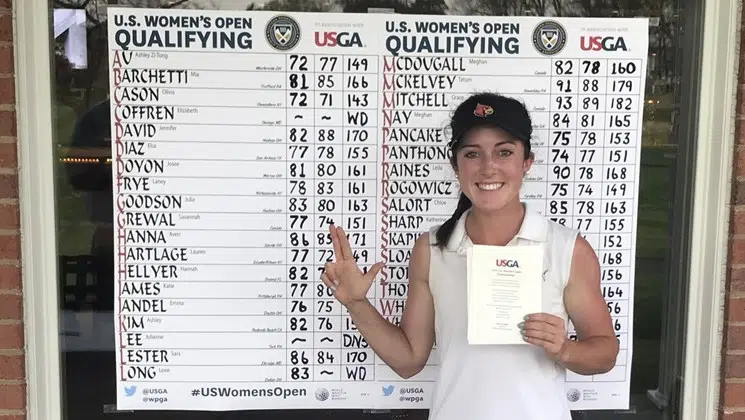 University of Louisville women's golf's Olivia Cason on Wednesday won the sectional qualifier in Pennsylvania and secured a spot in the 73rd U.S. Women's Open Championship.
Competing in a field of 36 that included nine professionals, Cason shot a 1-under-par 143 for the victory at the Indiana Country Club.
She was the only golfer to shoot under par at the one-day event. The Owensboro, Ky., native, Cason shot an even-par 72 in the first round of the day and followed with a 1-under-par 71. Over the course of the 36 holes, she totaled seven birdies.
The Owensboro, Ky., native will play as an amateur in the heralded championship from May 31 through June 3 at Shoal Creek in Birmingham, Ala.
"This feeling is surreal," Cason said. "I've been trying to qualify for a couple of years, and to finally make it is terrific."
Cason, along with teammates Lauren Hartlage, Molly Skapik, and Meghan Nay, drove more than seven hours from Louisville to Indiana, Pa., to compete at one of the 25 U.S. Women's Open Sectional qualifying sites. While the number of qualifiers from each site differs, the quartet was vying for one advancing spot and two alternate positions.