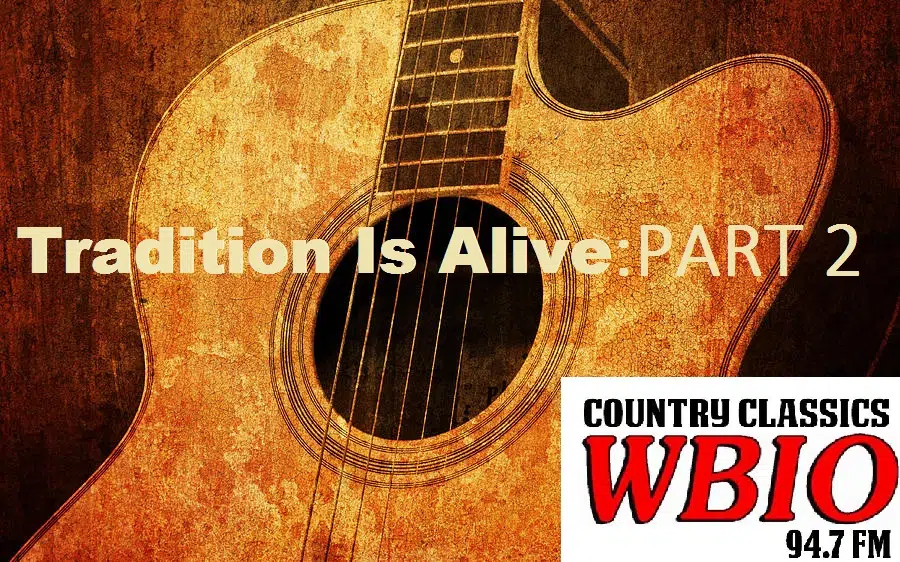 Some time ago I blogged about the fact that the rich sounds of traditional country music is in fact still alive and well – you just simply have to know where to look You can read that blog I posted back in August here.
From time to time, I still hear people say, "country music is dead." And on the surface, especially if you listen to mainstream country sources, you may think that traditional sounding country music may seem dead. Country music has definitely evolved over the years with pop-infused sounds, and I've even heard auto-tune in some new country songs. I happen to agree that traditional sounding country just doesn't seem to see the mainstream light of day anymore. Again, it appears that way on the surface, until you dig around.
In my last blog I mentioned the fact that there are MANY artists out there still making really good, traditional sounding country music. Since I prefer the traditional sounds of country music, I keep track of "new music" by artists that you may or may not have heard of.
In that blogged I mentioned artists like Daryl Singletary (who sadly passed away recently), Rhonda Vincent, Gene Watson, Ray Scott, Chris Stapleton, Willie Nelson and Tanya Tucker. Again, you can read my thoughts and finds from that blog here.
This list is a tad different. I'm still listing artists making traditional country music, but these artists are carrying the torch of their legendary father and/or mother. I've also provide a link to a video/song I personally recommend listening and watching.
Hank Williams Jr. This one is rather obvious. He's is the son of country legend Hank Williams and is the father of Hank Williams III AND Holly Williams. What's amazing about Hank Jr. is the list of instruments he can play. He can play guitar, bass guitar, upright bass, steel guitar, banjo, dobro, piano, keyboard, harmonica, fiddle, and drums! https://www.youtube.com/watch?v=YLjoS-wVltY
Hank Williams III. Like his father, III, is a multi-instrumentalist. Williams' style alternates between outlaw country, punk rock and metal. He has released seven studio albums, including five for Curb Records! https://www.youtube.com/watch?v=Le_vHnVPL5c
"Shooter" Jennings is the son of both country music legends Waylon Jennings and Jessi Colter. This year, it was announced he's releasing his eighth studio album. https://www.youtube.com/watch?v=MdJ8u5js27U
Dean Miller. Also known as Roger Dean Miller Jr. He's the son of Roger Miller. Dean has recorded three studio albums (one of which was not released), in addition to charting four singles on the Hot Country Songs charts and writing singles for Trace Adkins and Terri Clark. He has had many songs recorded by artists including George Jones, Trisha Yearwood, and Jamey Johnson. https://www.youtube.com/watch?v=UCR0_wgvGLU
Ben Haggard. Merle Haggard's youngest son is an incredibly talented musician in his own right. He was the lead guitarist in his father's band and it's apparent from his many proud social media posts that Ben and his dad, Merle Haggard, were very, very close. https://www.youtube.com/watch?v=AI2GFjvGwNc
Georgette Jones. She's the only daughter from what folks call "Country Music Royalty," George Jones and Tammy Wynette. She is now a country singing star in her own right. She was Tammy's 4th daughter. https://www.youtube.com/watch?v=DUI7qLcjNrU
Shelly West. Her mother was the country music legend Dottie West. She also was a successful solo artist, having her own No. 1 hit, "José Cuervo" in 1983. https://www.youtube.com/watch?v=c9S1OAvnEoU
Rosanne Cash. The eldest daughter of country music icon Johnny Cash and Vivian Liberto Cash Distin, Johnny Cash's first wife. In the 1980s, she had a string of chart-topping singles, which crossed musical genres and landed on both the country and pop charts, the most commercially successful being her 1981 breakthrough hit "Seven Year Ache", which topped the U.S. country singles charts and reached the Top 30 on the U.S. pop singles charts. https://www.youtube.com/watch?v=Q1gmZRzydzY
Carlene Carter. The daughter of June Carter and her first husband, Carl Smith. Between 1978 and the present, Carter has recorded twelve albums, primarily on major labels. https://www.youtube.com/watch?v=kmtbO4EwZ_4
Pam Tillis. She is the daughter of the late country music singer Mel Tillis. Tillis has earned one of country music's crowning achievements, becoming a member of the Grand Ole Opry, when she was inducted in 2000, 9 years after making her first appearance as a guest artist in 1991. https://www.youtube.com/watch?v=seXH9zr9LPc
Lorrie Morgan. The daughter of George Morgan. She has charted 40 songs on the Billboard Hot Country Singles & Tracks charts and has sold over 6 million records worldwide. https://www.youtube.com/watch?v=Btda6bDnlwo
This is part two of my "Tradition Is Alive" series of blogs. How'd I do with this list? Who'd I forget? Let me know.