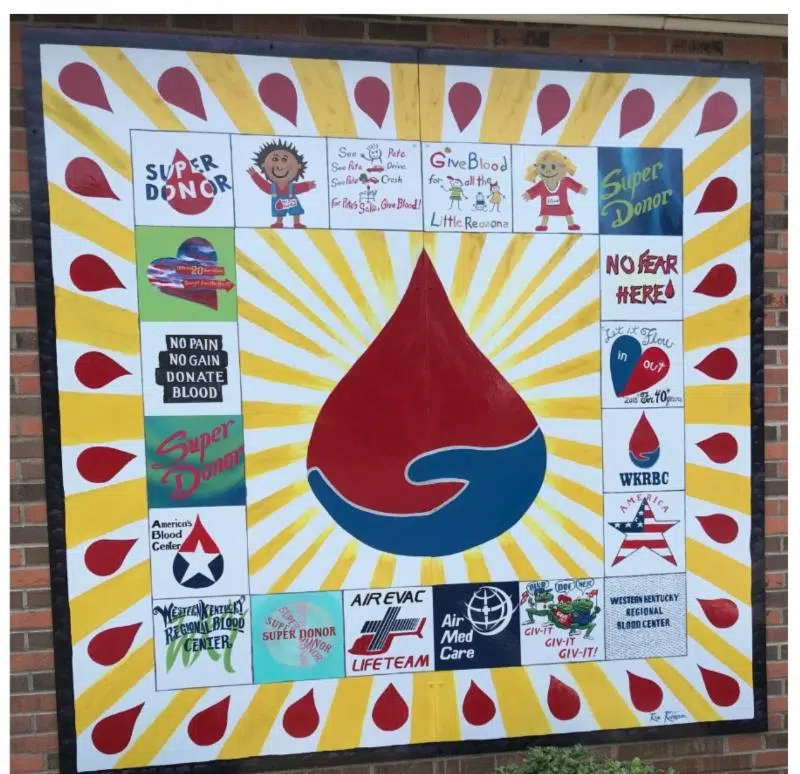 WKRBC is thrilled to unveil the newest update to our Owensboro Facility, our Barn Quilt Mural hand painted by Owensboro's own Rex Robinson. When Rex approached Janet Howard, WKRBC CEO (aka our fearless leader), she knew immediately this was something we wanted to embrace.   While we loved the idea, being a small non profit presented a challenge for funding of such an elaborate masterpiece.
A business meeting between WKRBC and Air Evac to finalize details of supplying the medical helicopter transport service with fresh plasma and red blood cells resulted in an impromptu sponsorship for the barn quilt. One of the Air Evac leaders saw the renderings for the mural and just like Janet, he believed there was value as well as beauty in displaying the mural.
The mural itself holds a great deal of history for the blood center. The original t-shirt design of Super Donor is depicted in several formats. Some of our most popular vintage t-shirt designs include Pete the Penquin, the "Blud Doe Ner" Frogs, and No Fear! Other special designs like our 20th Anniversary and Holiday t's were also chosen.
Special friends of the center are honored with a depiction of their likeness or caricature. Rex also created a special design honoring our 40th Anniversary as your community blood center. In appreciation to Air Evac for their generosity they were honored with a logo as well.
WKRBC hopes to add the mural to the Barn Quilt tour that covers much of western Kentucky. Plans are also in the works to add a second mural to the Car Port where the bloodmobile is housed.
Blood Center's are a medical facility but we've never wanted our guests to feel like it's a cold and sterile environment. We feel the art brings an inviting and welcoming aesthetic to our facility and we hope you will enjoy it too.