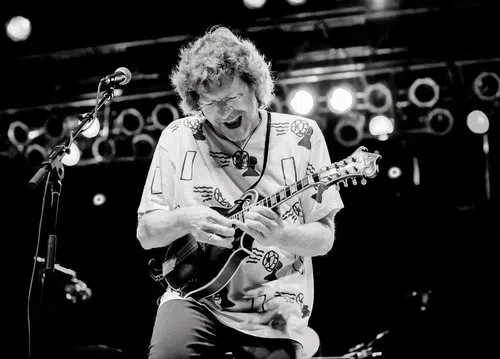 Owensboro, KY, July 3, 2018 – On Friday, October 19th, Sam Bush will perform during the Grand Opening weekend of the newly constructed Bluegrass Music Hall of Fame & Museum in Owensboro, Kentucky.  This concert event will take place in the 450-seat state of the art Woodward Theatre, and tickets are available at www.bluegrasshall.org.
Executive Director, Chris Joslin, stated, "Sam Bush is not only a fan favorite, but he is a huge supporter of the work we do here at the Bluegrass Music Hall of Fame & Museum.  Sam is a Kentucky native and the perfect link between the first-generation artists and the next generation. It's clear from his performance at ROMP this year that he is at the top of his game.  I can't wait to see him break in Woodward Theatre October 19th!"
A full schedule of performances and events for Grand Opening weekend will be announced soon.