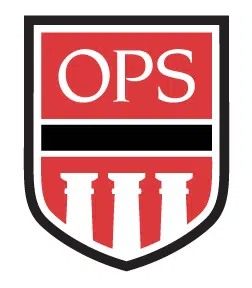 Owensboro, Ky. (July 26, 2018) – Cravens and Estes Elementary will offer dinner meals to students beginning August 20 as part of the USDA Child and Adult Care Food Program administered by the Kentucky Department of Education.
The meals will be served after school from 3-3:30 p.m. each day and will be available to any student participating in an approved after school program. Meals will be served at no additional charge to bring three no-cost meals a day to students at the school.
"This is an incredible service we will be able to offer our students," said Owensboro Public Schools Food Service Director Kaitlyn Blankendaal. "There are many students who don't know where their next meal is coming from unless they are in school. Now, we will be able to provide three meals a day at no cost to our students which will help them stay healthy and energized each day."
Cravens will join Estes Elementary as the only two schools in the district to offer dinner meals, but the goal is to have every school providing after school meals in the near future. Currently, every OPS school offers breakfast and lunch at no cost to students.
"Our hope is that Cravens and Estes will have high participation and we will be able to expand this service to every school in our district," said Blankendaal.
If you have questions regarding this service, please contact Jared Revlett, Public Information Officer for Owensboro Public Schools, at 270-686-1000 or by email at jared.revlett@owensboro.kyschools.us.
About Child and Adult Care Food Program: The Child and Adult Care Food Program provides aid to child and adult care institutions and family or group day care homes for the provision of nutritious foods that contribute to the wellness, healthy growth and development of young children and the health and wellness of older adults and chronically impaired disabled persons. Through CACFP, more than 4.2 million children and 130,000 adults receive nutritious meals and snacks each