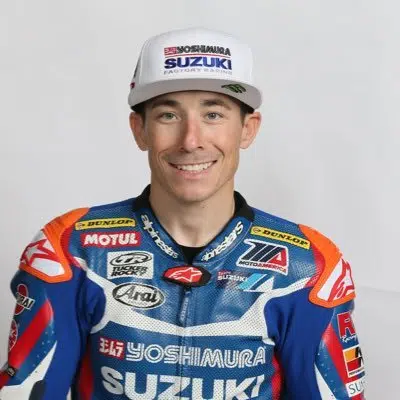 Owensboro native Roger Hayden made it official by announcing his retirement at the end of the 2018 racing season from competitive racing. The Yoshimura Suzuki Factory Racing standout and former AMA Supersport Champion has announced his intention of retiring from professional racing at the end of this season. Roger, the youngest of the world-famous Hayden brothers, has been a leading racer for nearly all of his 20 seasons as a professional. Suzuki and Hayden are exploring ways he might stay involved in the sport after this part of his career is completed.
Hayden went on to explain that he would like to remain with racing in some capacity, but not as an actual racer. "This is not something I've decided lightly and I've been thinking about this for a while. I've been going to races on the weekends since I was nine and I just thought it was the right time to move on to the next chapter in my life. I want to spend more time with my wife and maybe do some traveling and start a family at some point soon. "Yoshimura and Suzuki have felt like a family to me. "I would like to stay involved in racing in some way. I enjoy working with the young riders coming up and we'll see what the future holds."
Hayden followed in the footsteps of older brothers Tommy and Nicky racing as both flat track and road racers. Like Roger, both Tommy and Nicky spent time racing for Suzuki.
The massive success enjoyed by all three made them perhaps the best-known brother trio in the history of motorcycle racing. Perhaps the highlight of their career as a racing family, was when Nicky, Tommy and Roger swept the podium at the 2002 Springfield TT AMA Grand National. It marked the first and only time in the long history the AMA Grand National Championship that brothers completed a podium sweep.
Roger entered his first race at the age of six and was already a nationally-known rider by the time he turned pro in 1999 due to the fact that he'd won a lot of races in the amateur ranks in both flat track and road racing. Roger also earned the prestigious AMA Horizon Award in 1998 when he was just 15.
Roger launched his professional road racing career in 1999 at the age of 16. He showed amazing potential even as a rookie when he scored an impressive fifth-place result in the AMA 750cc Supersport race at Road Atlanta. He scored his first AMA 750 Superstock podium finish at age 17. His first two seasons racing as a pro road racer were aboard Suzuki GSX-Rs. In 2006 he was named AMA Superbike Rookie of the Year and then in 2007 he won the AMA Supersport Championship. In 2011 Roger returned to the Suzuki camp, racing Superbike for National Guard Jordan Suzuki. In 2012 he scored his first AMA Pro Superbike victory at Homestead-Miami Speedway with the Jordan squad.
Roger has been part of Yoshimura Suzuki since 2014. To date his career MotoAmerica/AMA Superbike win total stands at seven. Roger is coming off his most successful season of MotoAmerica Superbike racing in a long and successful career. He was title contender much of the 2017 season. Along the way he stood on the rostrum 15 times in the 18-race series, scoring three victories. Hayden secured second in the championship, giving the new Suzuki GSX-R1000 a 1-2 result in the machine's debut season. In addition, Roger earned seven Superpoles in 2017, a season best in the championship.
Besides his success in the American championships, Roger also enjoyed racing on the world championship level as wildcard rider in MotoGP and Moto2 and as a regular in World Superbike in 2010.
Fans will have the opportunity to watch Roger's final races and to see him during fan walks in the remaining four rounds of the 2018 MotoAmerica Series. Next race on the calendar is the Championship of Sonoma (California) at Sonoma Raceway on Aug. 10-12.