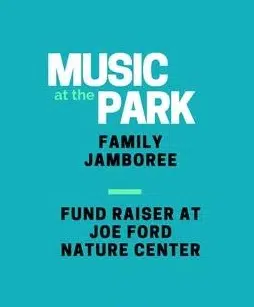 According to Volunteer Owensboro and the Joe Ford Nature Center's website, Music in the Park Family Jamboree is scheduled for Saturday September 8, 2018 from 11:00am-2:00pm. This is a free event for the family, with face painting, balloons and popcorn along with music from the Community Band and one another group.
This should be a fun-filled day as a come and go event, to stay all day and picnic or to drop in and say Hi.  Donations will be accepted, soft drinks and water sold along with the gift shop and museum being open..
Joe Ford Nature Center is located in Owensboro on West 2nd Street (HWY 60 W) behind GRADD.
Joe Ford Nature Park can be enjoyed at any time and serves as a trailhead for the Adkisson Greenbelt – West Owensboro Trail. On Tuesdays, Wednesdays, and Thursdays between 9am and 3pm, stop in at Joe Ford Nature Center to visit our gift shop and the Joe Ford Library. Our wonderful volunteers can assist you. JFNC is also open to the community on Fridays from 9am to 12pm. JFNC may be visited on weekends by calling Deborah Branch, Director at (270) 344-0596 and scheduling a visit. Special events and our Nature Camp program sessions are on a scheduled basis.
Programs may be scheduled by contacting Joe Ford Nature Center 270-302-2755 , 270-344-0596 or email jfncdirector2017@gmail.com.