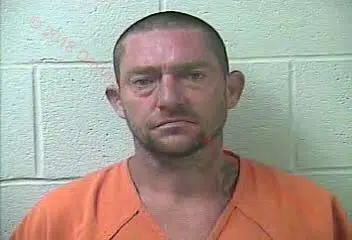 An Owensboro man is under arrest after police say he threatened to set himself and a factory on fire.
According to the Daviess Co. Sheriff's Office, deputies were called just after midnight Friday morning to the 9300 block of Hwy 60 W. for a welfare check for a man who looked like he was drunk or on drugs.
That man, 35-year-old Gregory Embry, of Owensboro, made threats that he was going to barricade himself inside an area factory and then set it on fire.
Police say when they arrived to the scene, Embry took of running in to a bean field and they eventually found him hiding in a shed. Police had to use bean bag rounds to take him in to custody because Embry told them, he poured gasoline all over his body.
Embry was taken to Owensboro Health to get checked out and then taken to jail.