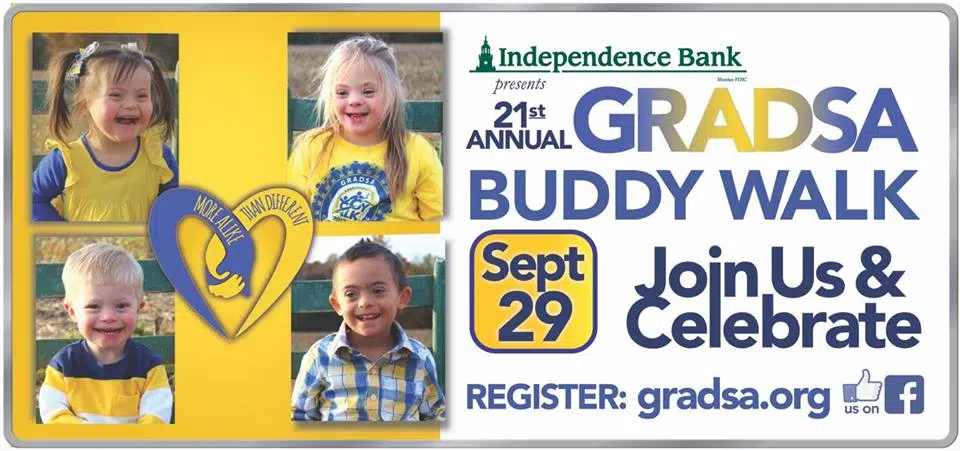 The Green River Area Down Syndrome Association (or GRADSA) is once again hosting their 21st Annual "Buddy Walk" on Saturday, September 29th from 11am-2pm. The walk is going to be held at McConnell Plaza on in downtown Owensboro.
GRADSA is a 501(c)3 organization governed by a board of parent and professional volunteers who share an interest in improving the quality of life for individuals with Down syndrome. We are an affiliate of the National Down Syndrome Society and the National Down Syndrome Congress. We serve nearly 300 families, educators, and professionals in the counties of Daviess, Hancock, Henderson, McLean, Ohio, Union, Hopkins, Breckinridge, Muhlenberg and Webster.
Their membership consists of families, educators, service providers, health care providers, or anyone interested in advocating for the lives of individuals with Down syndrome. Most GRADSA programs are available at no charge to members. Operating support comes entirely from individual and corporate donations. We are grateful for the support of our many benefactors for their ongoing commitment to our mission.
For more information, call 270-681-5313 or visit https://www.ds-stride.org/gradsabuddywalk.
**GRADSA Buddy Walk® t-shirts can no longer be ordered online. Limited quantities will be available on a first-come, first-serve basis at the walk**