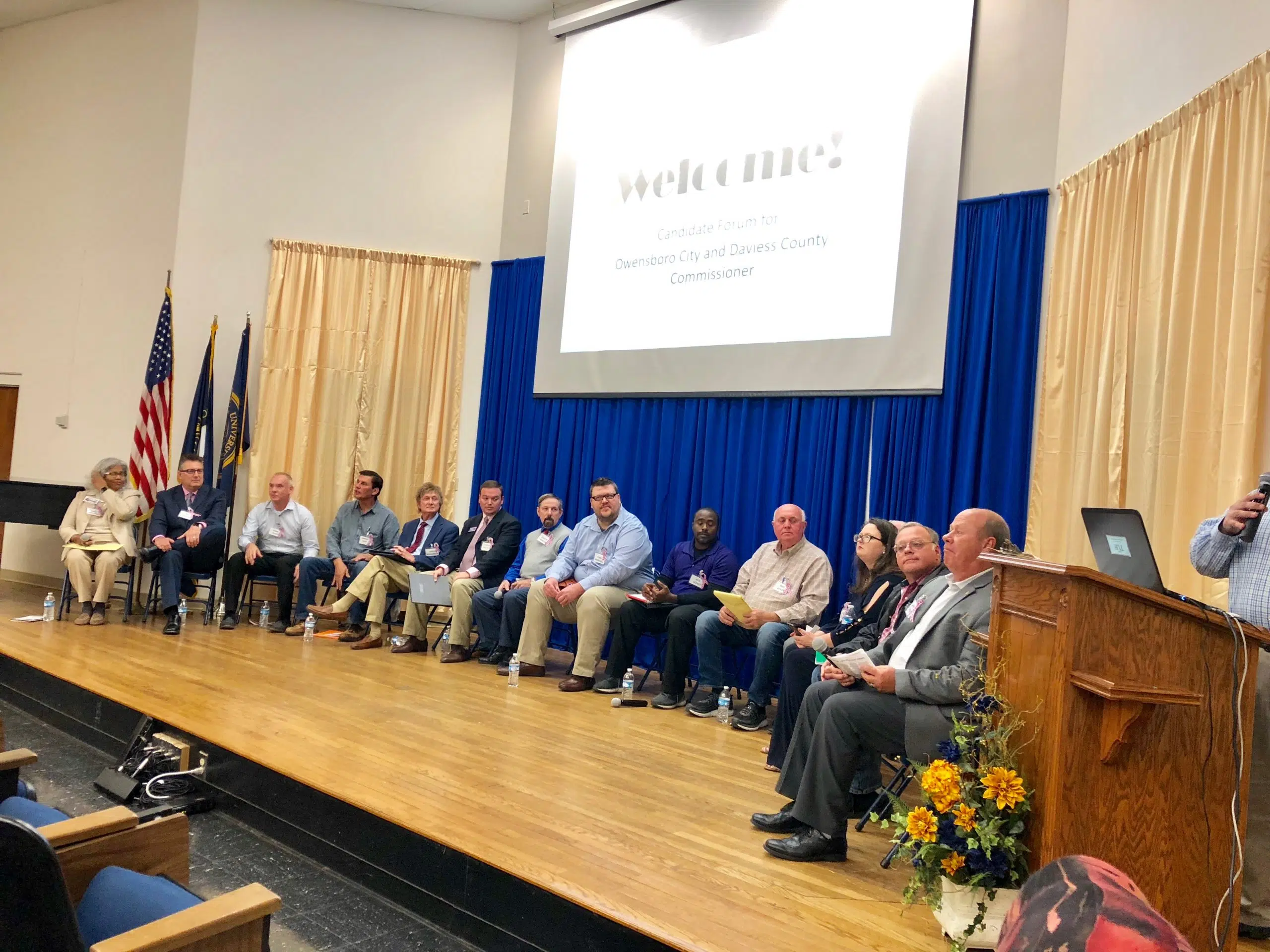 The community got to ask questions to candidates who are running for city and county commissioner in Owensboro and Daviess County last night at Brescia University.
The candidate forum, hosted by Brescia and the Owensboro Human Relations Commission took place inside the Taylor Lecture hall.
All current and new candidates running for city/county commissioners attended and were willing to participate in a community Q&A that was moderated by a representative from the Owensboro Human Relations Commission that lasted almost an hour.
Doors opened at 6:30pm, then candidates made personal presentations at 7 before the Q&A began. Hear the opening presentations here.
You may also view the entire recorded video stream here.
City/County Commissioner Candidates in attendance:
Mike Koger
Pam Smith-Wright
Larry Conder
Jay Velotta
Larry Maglinger
Mark McCoy
Joseph Martin
Jeff Sanford
Rick Searcy
Adam Marshall
Charlie Shelton
Meagan Hagan
Andy Gambin
Jimmie Sapp
The Owensboro Human Relations Commission was established by the City of Owensboro Board of Directors on September 22, 1972. It was restructured in 2001.
There are 6 purposes:
1. To administer a responsible human relations program.
2. To promote and secure mutual understanding a respect among social economic, religious, ethnic, racial, gender, handicapped and age groups.
3. To conciliate the groups listed above.
4. To enlist the support of civic, religious, labor, commercial and civil leaders dedicated to the improvement of intergroup relations and the elimination of discriminatory practices.
5. To receive complaints, conduct investigations, hold hearings and make studies.
6. To carry out such objectives as contained in the ordinance creating the Commission.