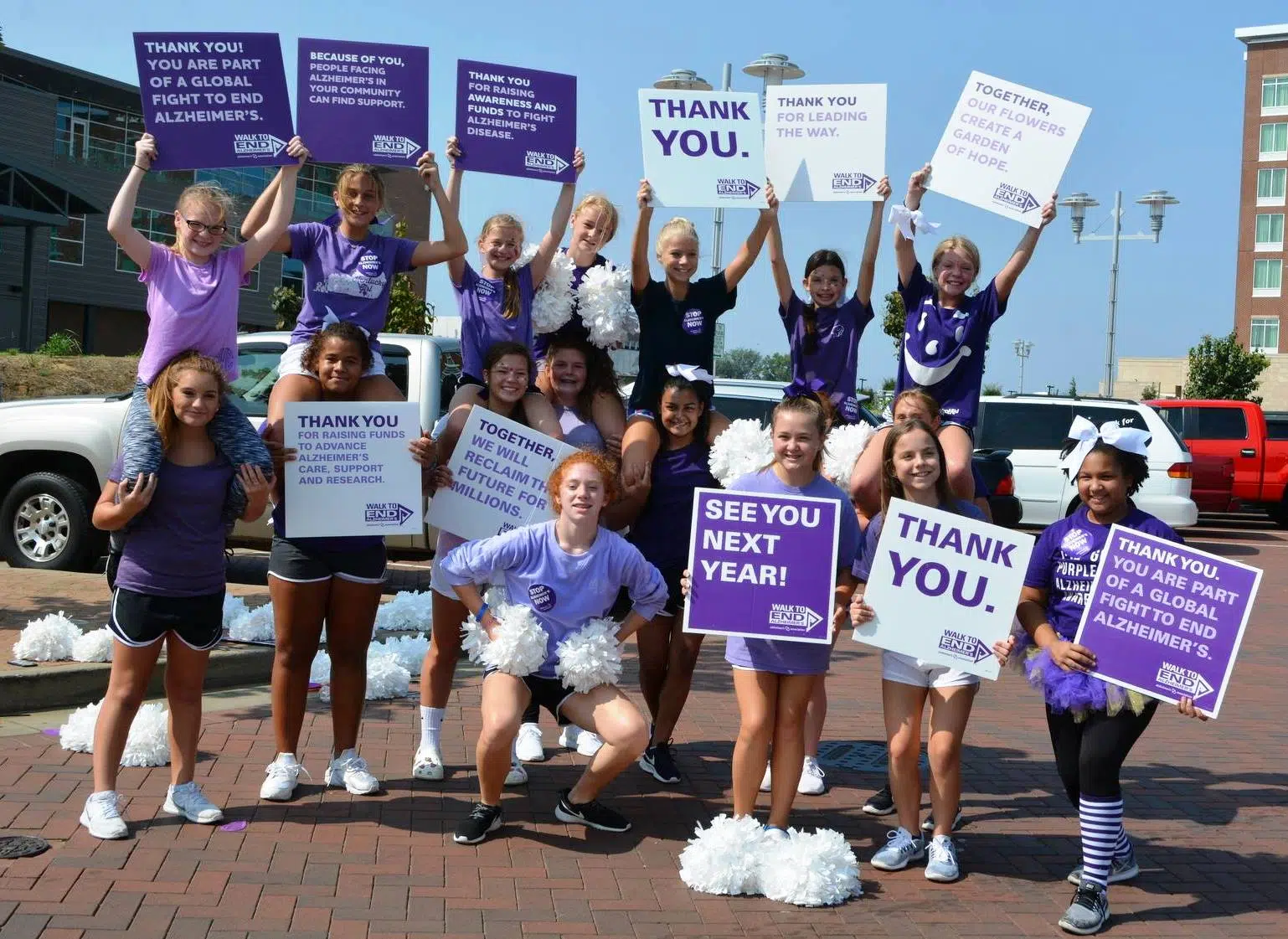 Owensboro, KY, October 30, 2018 – More than 600 residents from the Owensboro area joined the Alzheimer's Association Walk to End Alzheimer's in the fight to end Alzheimer's disease on August 25 at Smothers Park. Participants raised over $70,000 to fund Alzheimer's care, support and research programs.
Wellington Parc was the top fundraising team at this year's Walk to End Alzheimer's, raising more than $6,100. Additionally, they have been an ongoing supporter of the event as a platinum sponsor. Their investment in the cause stems from their connection as this facility specializes in the care and support of those suffering from Alzheimer's and related diseases.
Executive Director of the Alzheimer's Association – Greater Kentucky and Southern Indiana Chapter, DeeAnna Esslinger, stated, "Walk to End Alzheimer's is the signature fundraising event for the Alzheimer's Association. The generous donations allow us to continue the support of research for a cure as well as provide programs and services to families in our community and fund our 24-hour helpline. Every 65 seconds, another person in the United States develops the disease and every dollar counts for finding a cure."
However, Walk participants did more than turn in their fundraising dollars and complete the two-mile Walk route. They learned more about Alzheimer's disease and how to further get involved with this critical cause; from advocacy opportunities and clinical studies to support programs and other services. The event also included an emotional promise garden ceremony – a tribute to those who have experienced, or are experiencing, Alzheimer's in their lives, emceed by Derik Wayne Hancock, DJ with the Cromwell Radio Group, and Jordan Roos DJ and Walk team captain for the Cromwell Radio Group.
In Kentucky alone, there are more than 71,000 people living with the disease and 270,000 caregivers. In the United States, more than 5 million Americans are living with Alzheimer's disease, the sixth-leading cause of death in and the only disease among the top 10 causes that cannot be cured, prevented or even slowed. Additionally, more than 16 million family and friends provide care to people with Alzheimer's and other dementias.
Even though the 2018 Walk is over, we are still accepting donations through the end of the year to benefit it at alz.org/walk.
Alzheimer's Association Walk to End Alzheimer's®
The Alzheimer's Association Walk to End Alzheimer's is the world's largest event to raise awareness and funds for Alzheimer's care, support and research.  Since 1989, the Alzheimer's Association mobilized millions of Americans in the Alzheimer's Association Memory Walk®; now the Alzheimer's Association is continuing to lead the way with Walk to End Alzheimer's.  Together, we can end Alzheimer's.
Alzheimer's Association®
The Alzheimer's Association is the leading voluntary health organization in Alzheimer's research, care and support.  Our mission is to eliminate Alzheimer's disease through the advancement of research; to provide and enhance care and support for all affected; and to reduce the risk of dementia through the promotion of brain health. Our vision is a world without Alzheimer's. Visit alz.org® or call 800.272.3900.