On November 5th, 2018 at approximately 8:53 pm, the Owensboro Police
Department responded to a shooting at 300 East Parrish Avenue. Upon arrival
the victim advised he had been shot in the 400 block of Center Street and had
driven himself to the location to call.  Owensboro Police Department Detectives responded to investigate and charged the suspect, Julius T. Greer,  with Assault 1st
Degree. Anyone with any information about the incident is encouraged to call OPD at 270-687-8888, or leave an anonymous tip with Crime Stoppers at 270-687-8484.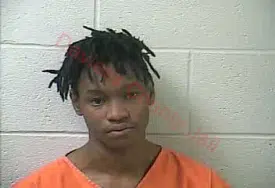 Greer is currently lodged at the Daviess County Detention Center.
*Photo courtesy of DCDC