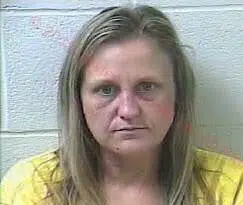 An Owensboro woman faces 4 charges, including 3 felonies and a class a misdemeanor.
Katherine E. Hoffman, who allegedly shot Omari McFarlane on Sept. 23rd, was charged by the Commonwealth of Kentucky with kidnapping an adult, a criminal attempt to commit murder, assault in the first degree and endangering the welfare of a minor.
The kidnapping charge stems from initial allegations pointing to Hoffman's activity in shooting McFarlane in his home before forcing him inside a vehicle, driving away and parking the vehicle on a country road, where she allegedly shot him again while inside the vehicle.
The case went to the grand jury where a judge pled not guilty on Hoffman's behalf after Hoffman pled neither guilty nor not guilty to initial charges. Hoffman's bail was set at $500,000.
The trial date for Hoffman's case has been set for Friday, at 8:30