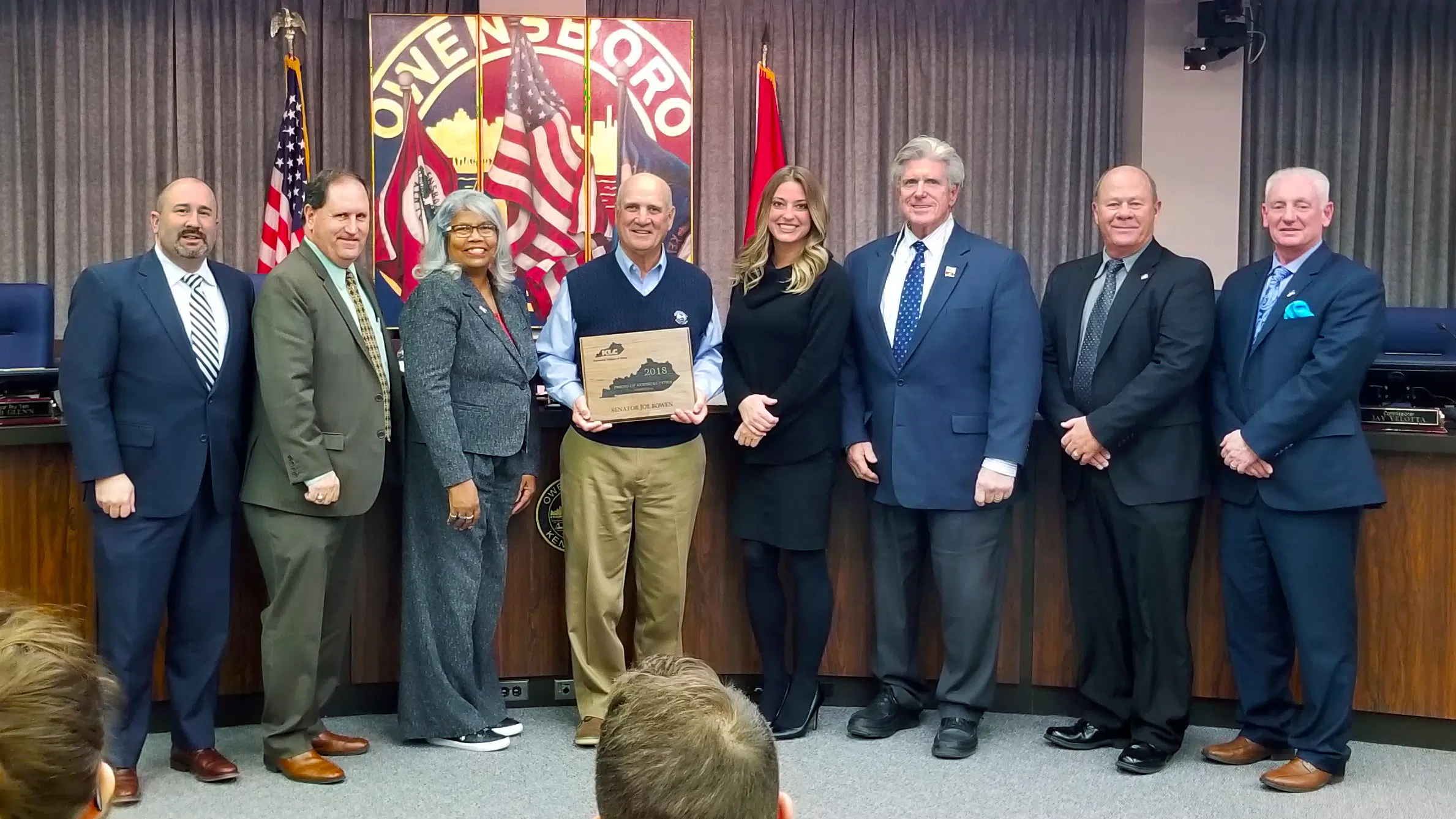 OWENSBORO, KY – The Kentucky League of Cities (KLC) presented Senator Joe Bowen (R-Owensboro) with a 2018 "Friend of Kentucky Cities" award Tuesday night. KLC Deputy Executive Director J.D. Chaney and Director of Governmental Affairs Bryanna Carroll bestowed the award to Senator Bowen during a meeting of the Owensboro Board of Commissioners.
Senator Bowen is a longtime proponent of home rule. He cosponsored Senate Bill 88 in the 2018 Regular Session of the General Assembly to prohibit unfunded mandates on local governments. As chairman of the Senate State and Local Government Committee, Senator Bowen was instrumental in ensuring passage of bills that defend local control.
"Although we are happy for Senator Bowen, we are sad to see him retire from the Senate," remarked Chaney. "Cities have seen a strong advocate in Senator Bowen. His cosponsorship of Senate Bill 88 was just another example of a long and dedicated history of championing legislation that reinforces the tenets of local control."
"We've tackled a lot of big issues during my two terms in office, and I'm proud to have been able to work with KLC to achieve passage of legislation that makes cities more efficient and improves the quality of life in our local communities," said Senator Bowen. "Cities are the most important assets the commonwealth possesses. I thank the League for this award and appreciate the friendship and support I've enjoyed over the years with city leaders from not only the 8th District but across the state."
"An ally and friend like Senator Bowen is someone who will be sorely missed," stated KLC Executive Director/CEO Jonathan Steiner. "We are proud to once again honor him as a 'Friend of Kentucky Cities' and hope he will continue that friendship in his retirement."
Founded in 1927, the Kentucky League of Cities is a membership association of more than 370 cities across the commonwealth. KLC presents the "Friend of Kentucky Cities" award to legislators who perform outstanding work advocating for issues that impact cities across the state.