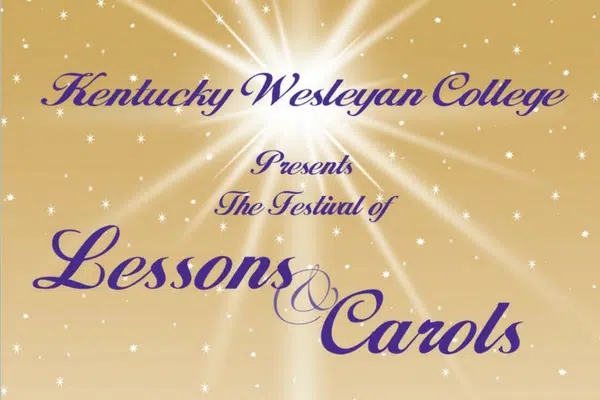 Owensboro, Ky. (Nov. 14, 2018) – The Kentucky Wesleyan Singers will present the College's annual Festival of Lessons & Carols on Nov. 29 and 30 at 7 p.m. at St. Stephen Cathedral at 610 Locust St. in Owensboro. Associate Professor of Music Dennis Jewett will direct the 40-voice Wesleyan Singers, and Assistant Professor of Music Kevin Callihan, director of instrumental ensembles, will direct the Wesleyan Brass Ensemble.  James Wells '14, director of music at St. Stephen Cathedral and adjunct instructor at Wesleyan, will provide accompaniment on the organ and piano. Nate Gross, Wesleyan theatre director, will narrate the program.
"The Wesleyan Lessons & Carols is the Owensboro version of the traditional service," said Professor Jewett. "We get to sing in a beautiful sacred space with the lovely acoustics of St. Stephen Cathedral. The program is a beautiful and meaningful start to our city's Advent and Christmas season."
This year's event includes two traditional carols, "O Little Town of Bethlehem" and "O Come All Ye Faithful," and carols written for the traditional Nine Lessons & Carols service in Cambridge, England. The program also features new carol arrangements by important living composers: Dan Forrest, Ola Gjeilo and Jan Sandstrom.
The Festival of Lessons & Carols, a tradition begun in England on Christmas Eve in 1880, weaves scripture readings and carols of the season in stirring homage to the birth of Christ. A much-beloved version of the festival began at King's College, Cambridge, in 1918, and is broadcast worldwide every Christmas Eve. Some sources report that it is the single music program heard by more people worldwide than any other annual event.
Tickets are $10 for adults and $5 for seniors and students with I.D. and are available at kwc.edu or by calling Peggie Greer at 270-852-3117.