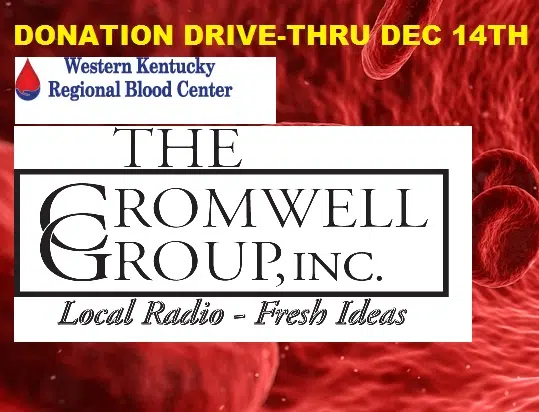 The Cromwell Radio Group and the Western Kentucky Regional Blood Center have teamed up for a community blood drive at the radio station at 1115 Tamarack Road in Owensboro.
On Friday, December 14th, the Blood Center's Bloodmobile will be at the radio stations from 10am to 5pm. Donors will receive a free long-sleeve t-shirt.
Also during the day, both WKRBC and Cromwell will be asking the community to donate toiletry items, gloves, sock caps, and/or scarves to be given to area homeless shelters. And for that donation, you will get free hot cocoa, chili and cornbread!
Recent weather-related business and school closings have caused the Western Kentucky Regional Blood Center lose a major blood drive or two; creating a blood supply shortage going into the holiday season.
All donors must be at least 17-years-old or 16 with a parental consent, weight al least 115-pounds. Donors must check medications with the center staff. Donors should have eaten a good meal prior to donation and must allow 56 days between donations. You must also provide a valid photo ID.
The Western Kentucky Regional Blood Center is a non-profit community blood center serving Western Kentucky since 1978. They are the sole supplier of blood and blood products used at six Western Kentucky Hospitals:
They serve the following counties: Daviess, Ohio, Breckinridge, Crittenden, Caldwell, Hopkins, McLean, Trigg, and Hancock.
Each year more than 16,000 pints of blood are needed to meet the demands of our local hospitals. The Western Kentucky Regional Blood Center meets that demand by collaborating with area business, schools, churches, and civic organizations who sponsor volunteer blood drives and with the support of the faithful volunteer blood donors who visit our centers. Welcome to WKRBC.
For more information, visit WKRBC.org or call 270-684-9296!